Michelle has a BA and MA in English from Millersville University of PA as well as an MLIS from the University of Michigan (and the student loans to prove it all).  While working as an archivist, she began moonlighting as a reference librarian in the Needham (MA) Public Library.  It felt like home and she soon made the leap from archives to full-time librarianship.  She worked as an Assistant Director at the Dover (MA) Public Library for several years before relocating to Milford, NH to become Director of the Wadleigh Memorial Library for the next 11 years.  Having grown up with her sister, landlocked on a 3rd generation dairy farm in Pennsylvania, she didn't know what she was missing until she saw the ocean for the first time.  It wasn't long before she made it her mission to one day live by the sea.  She currently lives in Wells where she enjoys taking her German shepherd Henry (named after Thoreau…once an English major…) for walks on the beach.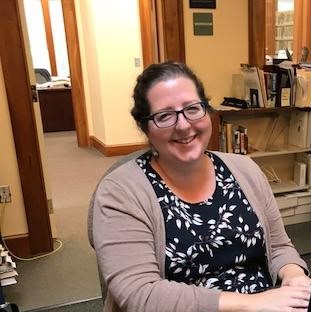 Sophie joined the library in August 2018, after finally returning to her home state of Maine. A native of Cumberland, Sophie went to Kenyon College in Ohio to get a BA in History and Spanish, and later went on to get her MLS at Simmons College in Boston. She has worked as a library assistant at the Cambridge (MA) Public Library, the Nashua (NH) Public Library as a reference librarian and then supervisor of teen services, and as an assistant branch manager at the San Antonio (TX) Public Library. After missing family, fall, and the ocean, she returned to Maine and couldn't be happier to now be working in York. Sophie lives with her husband and young son in Kennebunk. She loves to travel, read, and enjoy nature.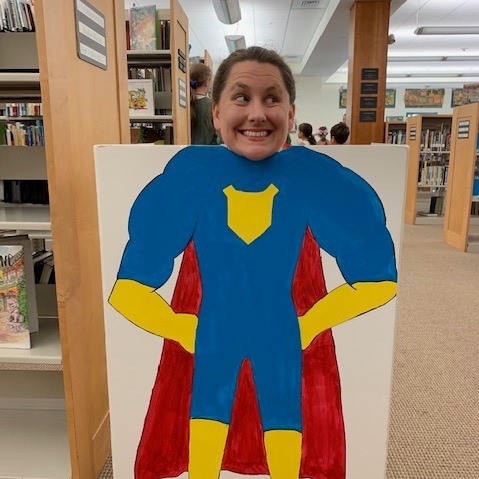 Katie joined the York Public Library in November 2016. She earned a M.A. in Environmental Education from the University of New Hampshire. She loves working with children and their families, and thoroughly enjoys helping people discover all of the wonderful resources the library has to offer. Her interests include reading picture books, knitting, and transforming her scraggly front yard into a glorious cut flower garden.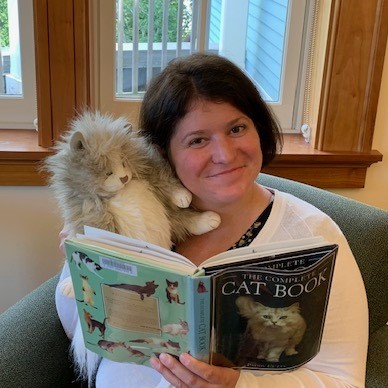 Jane Siviski Hoffman
Development & Marketing Coordinator
Jane joined the York Public Library team in 2019 after working for ten years at an animal shelter in Brunswick, Maine. As a lifelong lover of libraries and nonprofits, she's happy to be part of the YPL team to serve another cause dear to her heart. Jane lives in Eliot with her husband, her large, fluffy gray cat named Muffy, and her seriously large dog, Gus, who is a Great Dane.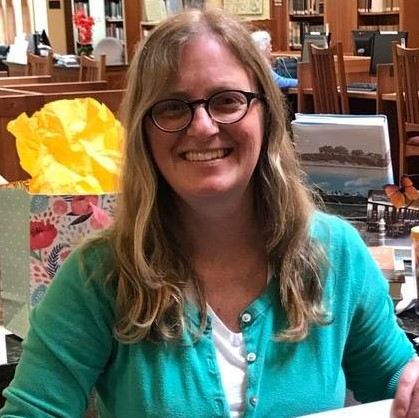 Michele began working at the library in 2007. She holds a BA in English and enjoys reading, boating, gardening and raising rescue beagles.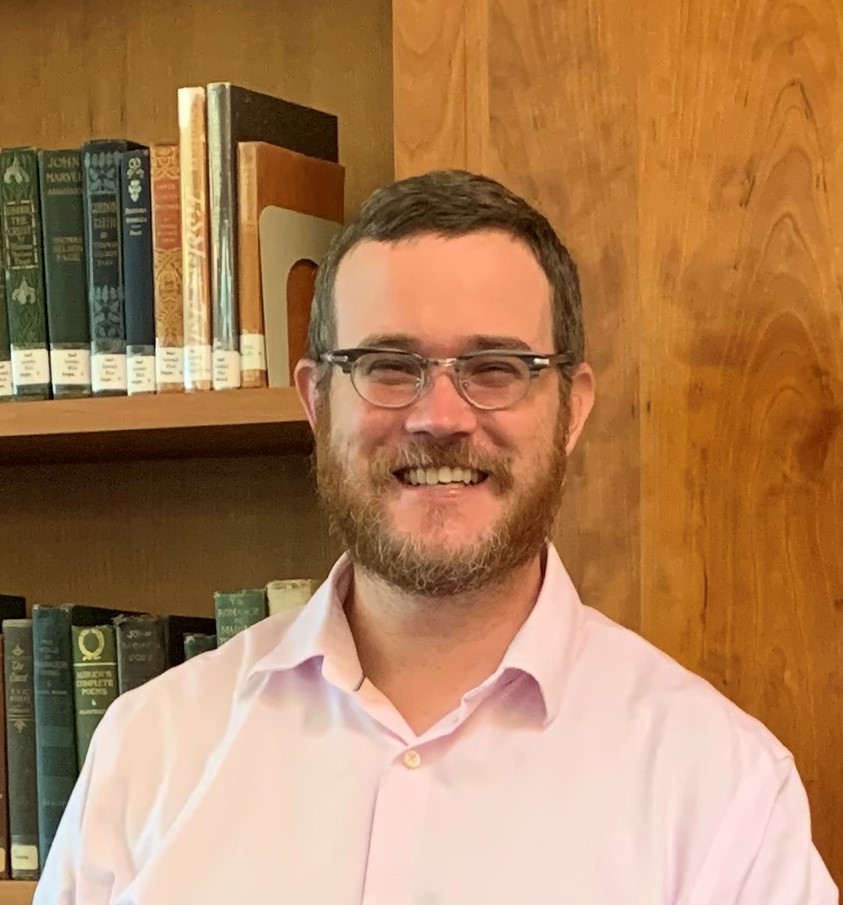 Devin Burritt
Reference and Technology Librarian
Another Midwest native who fell in love with the coast, Devin joined the York Public Library in the fall of 2021. He holds an MLIS from Kent State University and an English degree from The Ohio State University. He has worked as a youth services librarian, public library administrator, and an instruction librarian at libraries in Maine and New Hampshire. Outside of work he enjoys exploring new playgrounds and parks with his young children, watching [too much] TV, and all things Star Wars.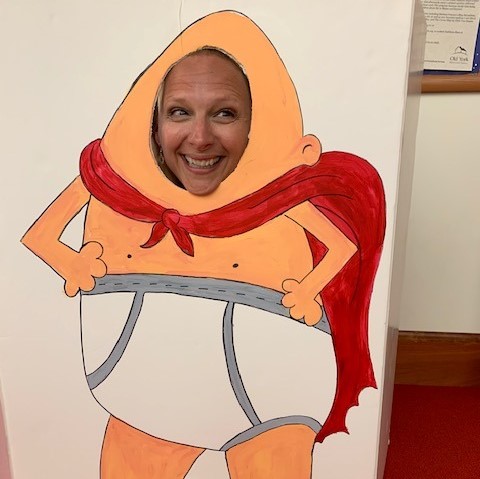 Barb Bourgoine joined York Public Library in September 2018 after serving youth at Portsmouth Public Library for 9 years and volunteering at YPL for several years. She earned a BS degree at University of Maine at Farmington and had various health education roles before traveling onto the yellow brick road. Off work time, most days are spent with her two active teens and neighborhood friends. Down time includes immersing in young adult fiction, researching genealogy, cheering on the Patriots and stints to NH lakes region.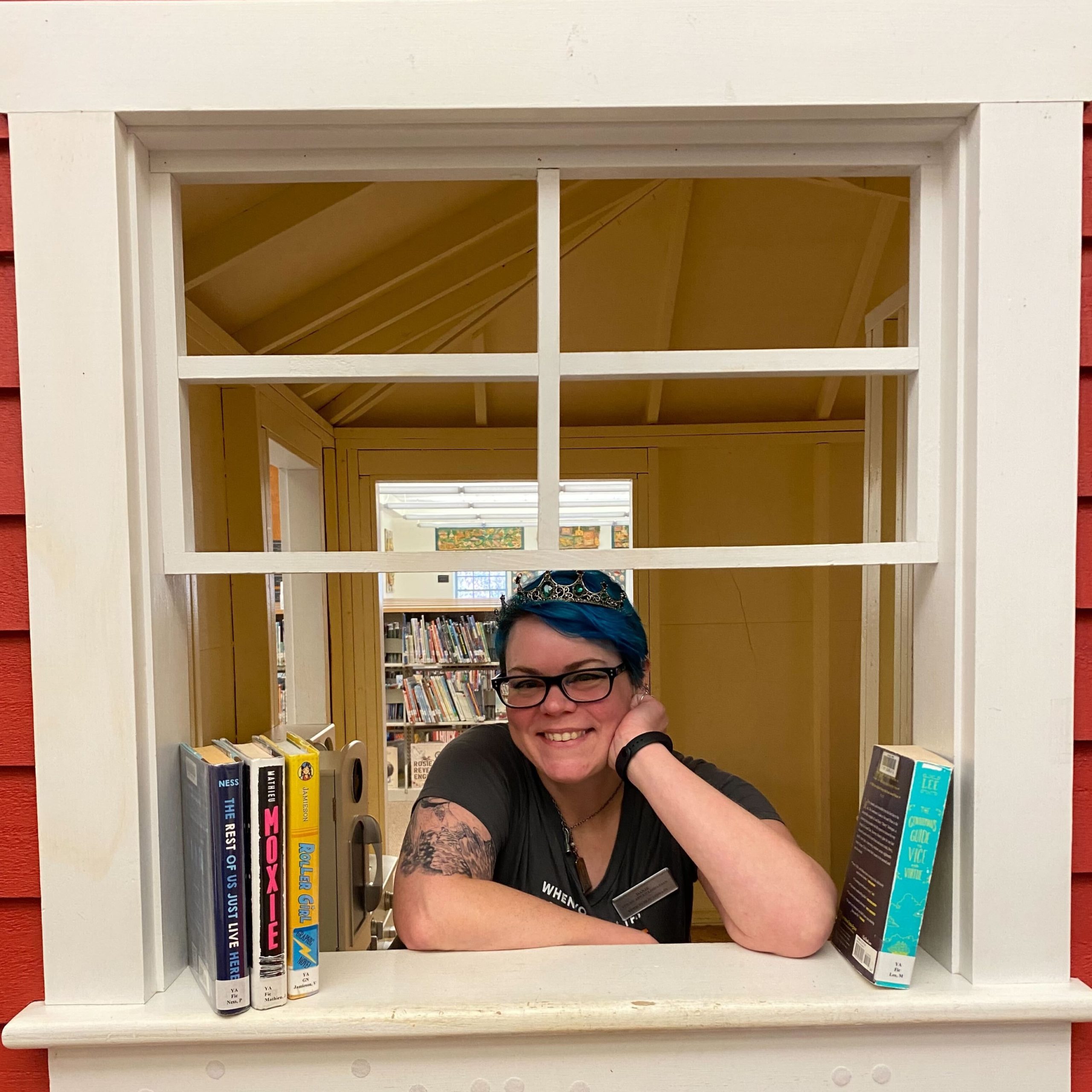 Danielle (Danie) has been working in libraries since before the dawn of time (or the late 1990's whichever is cooler…). So she totally remembers the days of pre-internet and the old paper card catalogs, which she totally doesn't miss. (The first time you drop a drawer and have to put allll the little cards back you'd get why she doesn't miss them.) Danie has three cats and a dog, all very spoiled and will happily share pictures if you ask. In her non-library life she enjoys terrible dad jokes, roller skating, and playing roller derby.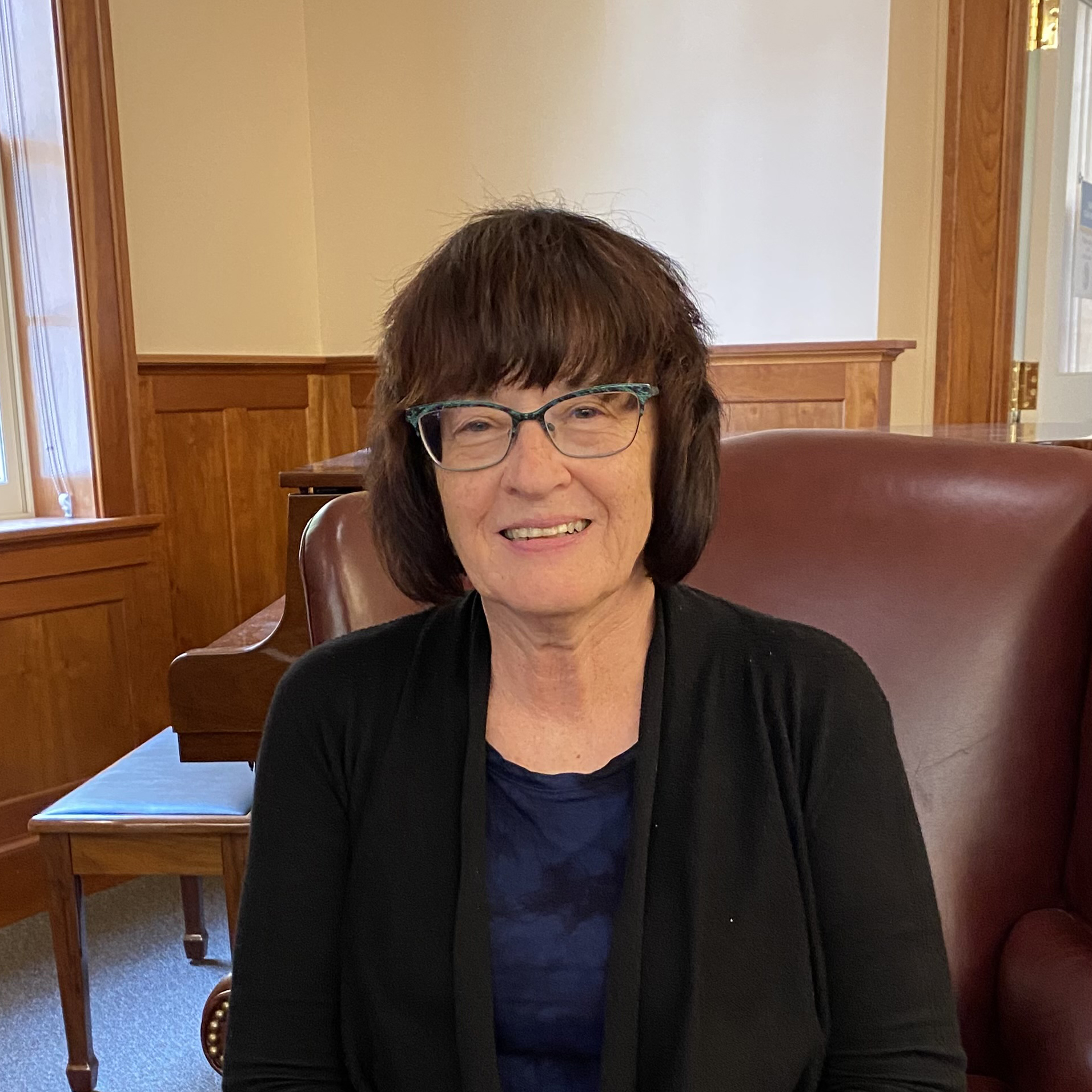 Karen began working with YPL in June of 2023. She has been a lifelong advocate, supporter and vocal fan of libraries! Over the years, Karen and her husband brought their four children to the library every week, always maxing out their book limit. Now her grandkids do the same. Karen has an M.Ed. from the University of New Hampshire, and then worked for three years as manager of The Parenthood Project, a long-term research study. After this she accepted a position as an Extension Educator in Family and Youth Development with UNH Cooperative Extension. For over 20 years she worked with individuals, families, youth, communities, organizations, businesses and nonprofits to provide education and resources related to health and wellness, parenting and other family issues, aging, youth at risk, and consumer issues. Karen enjoys reading, creative cooking and baking (love to try new stuff), walking in nature, time with her kids and grandkids, Cape Cod, Lake Winnisquam and Autumn.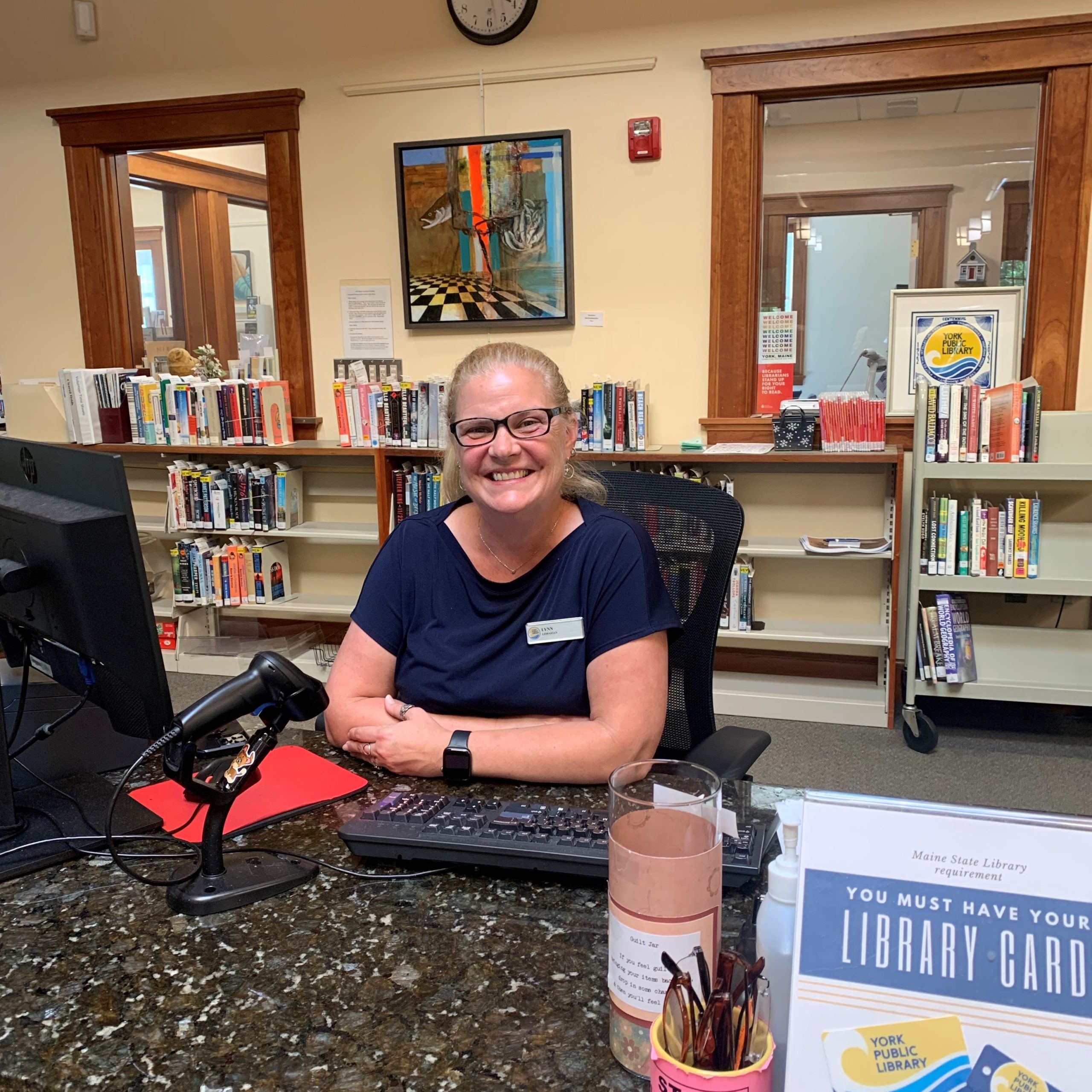 Lynn started out as an intern at the YPL in the fall of 2020, earning her MLIS from URI. In May of 2021, she started filling in and "subbing" for various shifts, until she took the plunge in 2023 and became a permanent YPL staff member. Originally from the Midwest (St. Louis and Chicago!), her family fell in love with New England when she moved to Massachusetts in the middle of 4th grade.  A former elementary school teacher of 20 years with her M.Ed. from UNH, she made the decision to leave the classroom in 2016 with the arrival of her son and pursue a new academic and career adventure. Aside from reading, Lynn loves spending time with her son and husband, walking, cooking, baking, writing, and doing anything creative and crafty with her hands!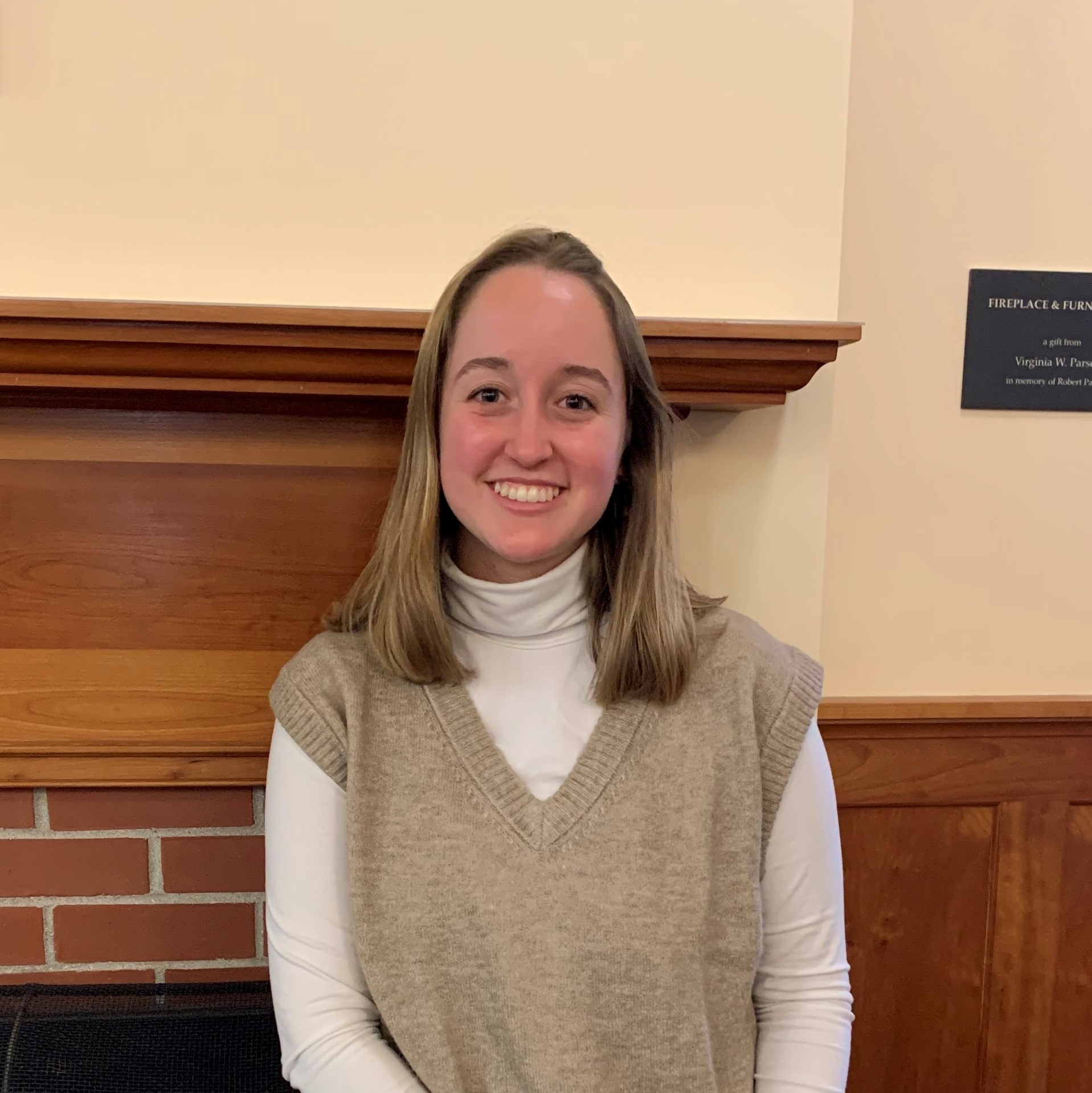 Emily joined the York Public Library in October 2021 after graduating from Dickinson College in May 2021 with her BA in American Studies. Other areas of academic interest are the Italian language and art history. Outside of work she enjoys reading, watercolor painting, hiking, and skiing!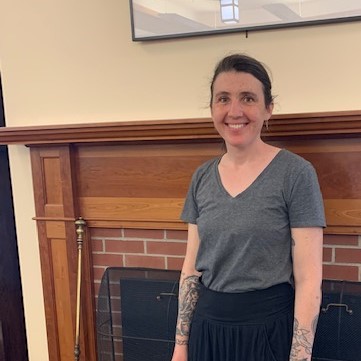 Kelly has been part of the York Public Library team since May 2021. She has been a middle school librarian for 12 years, and is now splitting her time between York Public Library and the school library.
Kelly attended Simmons College in Boston for her MLS. When she is not slinging books she enjoys walking at the beach and appreciating all the delicious bakeries in the seacoast area.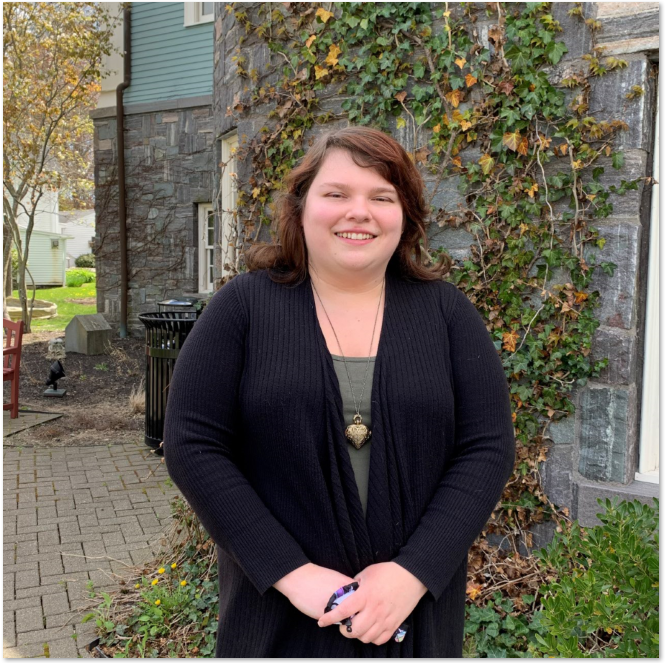 Marlow joined York Public Library in May, 2021 and will be working on earning an MLIS at Simmons University this year. Born in Wells, Marlow went to school at the University of Maine at Farmington to get a BA in English and later achieved a MA in English and Creative Writing at Southern New Hampshire University. Besides her love for writing and baking Marlow enjoys going on walks with her dog, Maggie, a sassy but sweet rat terrier.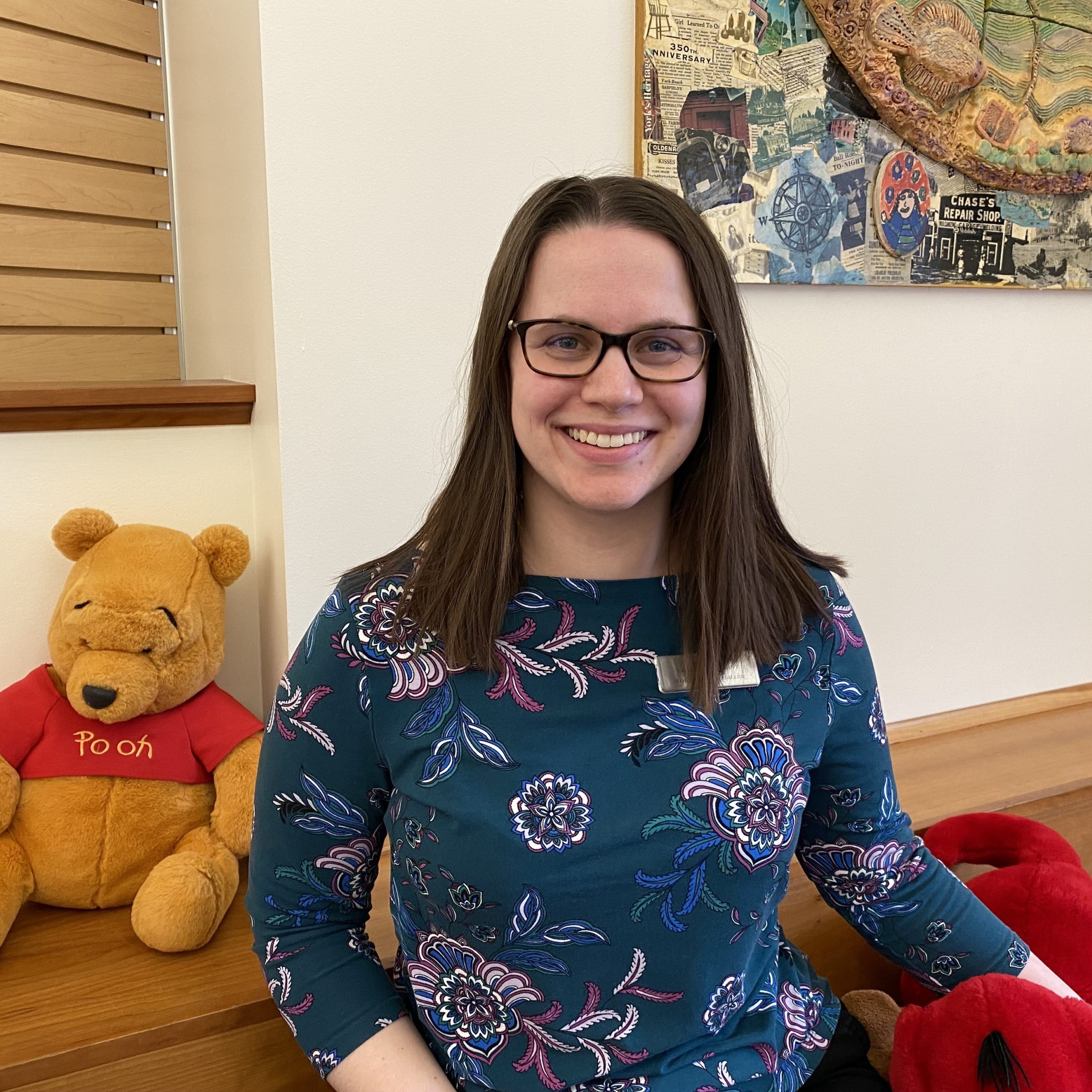 After volunteering at the York Public Library in the summer of 2021, Isabelle knew it was the place to be! She joined the YPL team in November 2022. A lifelong lover of libraries, literature, and alliteration, Isabelle holds a BA in English from Mount Holyoke College. Even outside of library life, she reads and writes as often as she can. Her constant companions are two furry friends: Peggy the dog and Mr. Darcy the cat.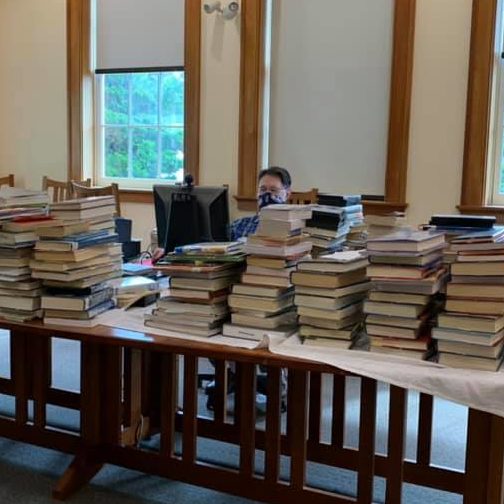 Steve was born and raised in Kingston, MA, which is right next to Plymouth. He enjoys traveling in his RV, reading, and his big family: he's the oldest of five, and  wife Bunny is the middle of nine! He especially enjoys their four granddaughters, all now twenty-somethings! Time does fly.
Steve and Bunny have lived in York since 1986, and Steve is looking forward to bringing some much-needed technological improvements to the Library, including the phone system. Stay tuned!
rcole@yorkpubliclibrary.org