Meeting Rooms
Reserve a meeting room for your community group.
The York Public Library has three meeting rooms and two small study rooms. The Library welcomes use of these meeting rooms by community groups for civic, educational, and cultural activities, as well as for public discussion. Priority is given to programs, events, and activities sponsored by the Library and the Town of York. Otherwise, meeting rooms are made available to other groups or individuals on a first come, first served basis.
Meetings and events held at the Library are expected to be free, open to the public, and conducted in a manner that welcomes the expression of diverse opinions and civil discourse. The Library's Patron Conduct Policy applies to all events, meetings, and activities held in the Library's meeting spaces.
Meeting rooms are available at no charge for local, non-commercial, tax-exempt, religious, political, cultural, civic, and educational groups. For-profit groups, or any group who needs private use of the space, may request use of a meeting room at the rate of $50 for each four hour block they require in the Wheeler Room, or $100 for each four hour block in the Community Room. Payment will be required to secure the reservation and only refunded if notice is given within three days of the scheduled event.
An online reservation system is available through the library's website, and requests should be made at least three days in advance of a scheduled program. To reserve a room, a representative of the requesting group must read and accept all terms of the Meeting Room Policy; they will be responsible for assuring that all Library guidelines are followed. Reservation requests will be accepted for up to three months in advance of the scheduled event. 
Staff will review and approve meeting room requests within two business days of the submission.
How to book a meeting room:
Request a room using our online reservation system.
A staff member will review your request and send you an email telling you whether your request has been approved.
If you have any questions, contact the Library at 207-363-2818. Our full meeting room policy is available here.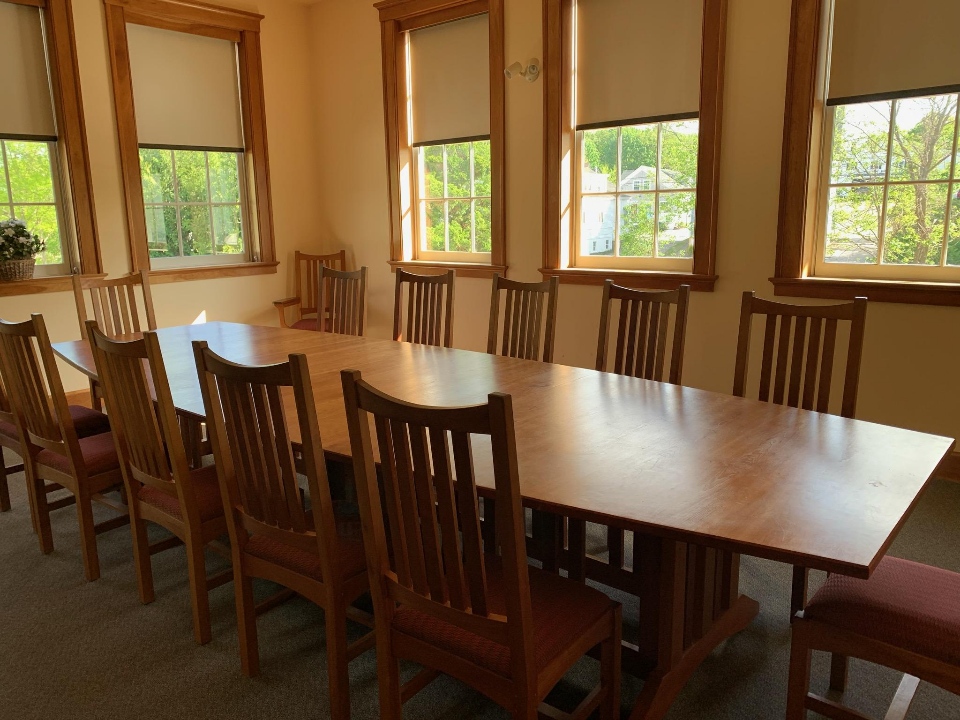 The Conference Meeting Room (Wheeler Room) is located off the lobby at the entrance to the Library. It seats 14 people around a rectangular conference table. No food or drink is permitted in this room.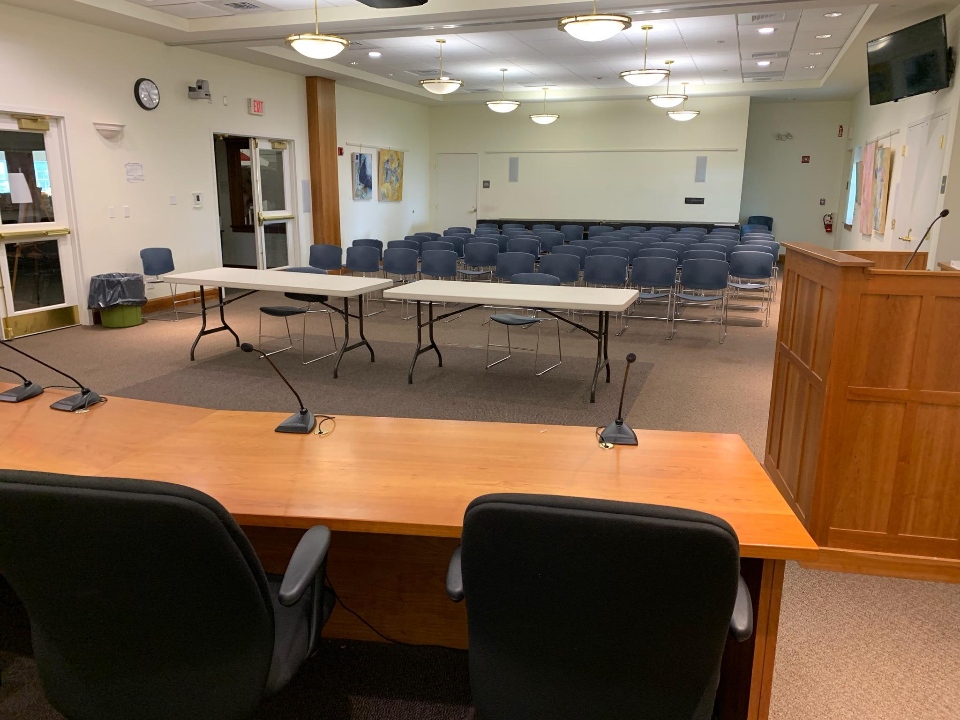 The Community Meeting Room is located on the lower level of the Library. It seats 80 people in a theater style, with additional tables provided as needed for alternate arrangements. It shares a kitchen with the Crafts Room in the Youth Services area. It is outfitted with a projector and sound system which can be used by the public only if requested on the application. Staff will provide a brief orientation to the equipment as needed. Any film shown must be in compliance with U.S. Copyright laws and Public Performance Rights.
The Young Adult Room (Kennebunk Room) is on the lower level of the Library. It accommodates up to 16 people around a large rectangular table or 30 people if furniture is moved and arranged in rows. With some exceptions, this room is free for morning meetings ending by 1:30 PM on weekdays and meetings scheduled outside of regular library hours. At all times that young adults are not in school, the room is reserved for them.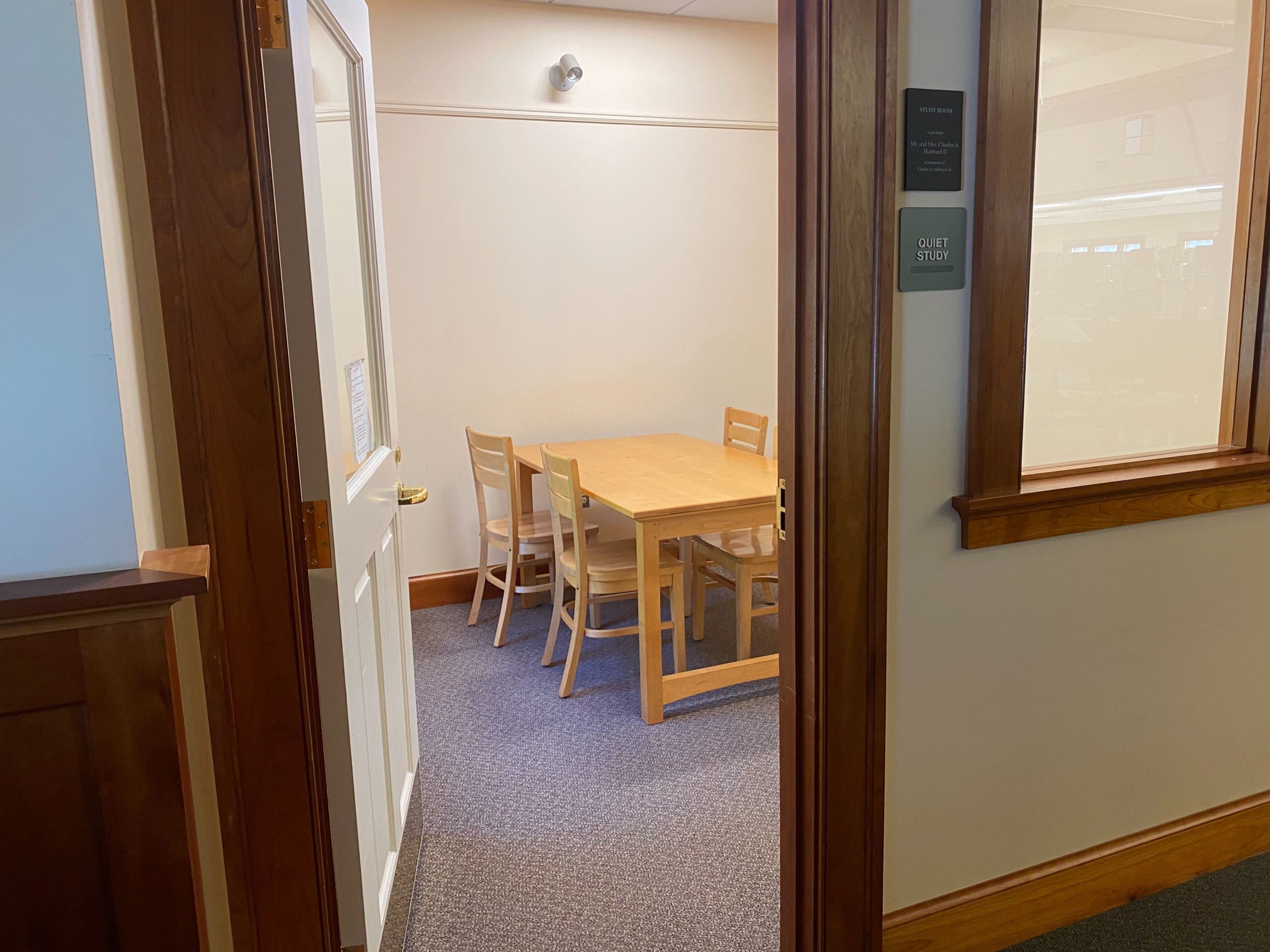 Two study rooms, each accommodating four people, are available on the upper level for small group work, research, and quiet study. They are available on a first come, first serve basis and use is limited to two hours if others are waiting. A sign-up sheet is kept at the circulation desk.