Past Exhibits
Learn more about the artists who have recently displayed their work.
Did you miss an art exhibit? You may enjoy some of our past exhibits virtually in the online gallery provided below. Click on the images to enlarge them and more fully enjoy each piece. Click on an artist's name below the virtual gallery to learn more about each artist and their work. This archive only contains exhibits from last year and the current year.
Studio Works May - June 2023
The painters exhibiting at The York Public Library from May 2nd- through June 30, 2023 refer to themselves as the Abstract Four.  Barbara Adams, Peter Cady, Tom Glover and Dustan Knight enjoy sharing the challenges of creating abstract paintings. This exhibition called Studio Works is a glimpse inside the artists' creative world.  Each of the Four Abstract painters chooses a range of artwork from their studios, both older and newer pieces, that celebrates their range and delights in their abilities to move between realism, abstraction and purely non representational artwork. Opening Reception – Tuesday May 9, 2023,  5:00 – 7:00p.m.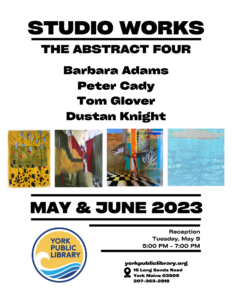 It is unusual to find four like minded artists who buck the traditional nomenclature assigned by instructors and gallery owners to move comfortably across the artistic language. It is an opportunity for viewers to watch the transition of representational  subjects such as a place or an object into artistic abstract interpretations and into images that no longer resemble the scene or object at all.
"There is definitely an educational aspect to our shows," says artist Adams. "Abstraction can be intimidating and here you find four artists sharing their creative processes."
"Fish Dream Catcher" by the well known artist and teacher, Tom Glover, has both realistic and non-representational elements.   "Into the City" by Barbara Adams suggests its architectural inspirations by a few dramatic vertical edges and light peaking around the corners of shadowy shapes.  Dustan Knight,another familiar seacoast artist, adds a nod to the landscape in "Sea" with just a simple horizon lost in the swirl of luscious brushstrokes and broken color.  Peter Cady, wood worker and painter, references familiar places with his "Autumn Woods" and minimal deliberation that edges the work toward poetry. 
Barbara Adams
I paint for the love of painting. During the 35 years of my art involvement I have seen many shifts and transformations in my themes, styles, mediums and composition. I treasured the watercolors of my early work, I was passionate about pastel painting, but in recent years oil painting – especially on abstracted themes has become a passion for me. I find the intensity and the richness of using a palette knife and color-mixing in oils to be compelling and joyful.
Inherent in all my work is an effort to portray the essence, the emotion, or sense of place that captures my imagination. With my abstract paintings, I find excitement in integrating my love of antique structures or landscapes with vibrant color and abstracted shapes.
I acknowledge that traveling to foreign countries, experimentation with new techniques, or even just a certain light in a color or upon a scene can inspire my paintings. However, my real motivation to paint is the joy in the process rather than the product.
Peter Cady
Peter Cady grew up on the coast of New Hampshire. His study of painting began as a boy observing painters with
their easels overlooking the ocean. He studied civil engineering but found he was drawn to things artistic and
to working with his hands. After college he worked in construction and learned fine woodworking. He still lives in
the timber framed house he built from his trees. His furniture making started to incorporate color and a variety
of materials, evolving into sculpture. After a second career of teaching science to middle school students, he returned
to the arts. He has gotten to know and learn from many fine artists including Gary Haven Smith, Gail Sauter, Nella Lush, Tom Glover, Dustan Knight, Brian Chu, and Bess Cutler.
Tom Glover
Tom Glover was born in Keene, NH. He graduated with a B.F.A degree in painting at the University of NH, Durham and worked closely with the Maine painter John Laurent up until Laurent's death in 2005. He studied painting restoration with the conservator Anthony Moore in York, Maine. For several years he lectured at the University of Connecticut to science education graduate students on, "The Landscape, Mythology and the Artist". He has also taught painting at the University of NH, D.C.E, and workshops on the Isles of Shoals, NH/ME. Presently he teaches painting at Sanctuary Arts in Eliot, Maine.
In 1996 he was artist in residence on White Island, Isles of Shoals. In 2000 he was awarded a fellowship to work on Great Spruce Head Island where he used Fairfield Porter's easel and on a second stay used Eliot Porter's old darkroom as a living and painting quarters.
He began seeking out the masters during several trips over the past two decades to Italy, England, Ireland, France and Denmark. He was artist in residence at Rancho Romero, Osa Peninsula, Costa Rica, and a visiting artist at Monticello, New Mexico exploring canyons, Apache forts and possible Anasazi ruins. In 2016 he was artist in residence at the Shoals Marine Lab on Appledore Island, Isle of Shoals.
Dustan Knight
 I am so pleased to exhibit a collection of my paintings with the Abstract 4 group.  We encourage and support one another's artistic journeys. The work I have submitted to the York Public Library is an edited version of some of the more exciting series that I have worked on over the past several years.  There are watercolors (mounted on archival panels) that I feel really suggest the sensation of moving water.   Watercolor has the unique characteristic of transitioning and blending beyond the artist's intention – I really love that excitement and bright color.  I include two acrylics on panels that are expressions of experiences I have had hiking beside the sea and along the trails bordering Great Bay.   The large acrylics are an on-going series of expressive and abstracted landscapes.  I did two from sketches after I returned from a residency at the Ilse of Shoals and one, perhaps my favorite of the group  – Spring Peepers – is perfect for May –  I tried to capture the feeling of the warming earth, the moisture and that wonderful surround sound of the spring peepers in the evening. 
Dustan Knight is a working artist who grew up on an Island off the NH coast and has a studio in the Button Factory in Portsmouth NH.  Most of her artwork is inspired by the local landscape of rough granite seashores, pine and birch forests and her island garden.   Dustan has had a lengthy successful career as an art professor, art writer and exhibitor.  Many of her paintings are in national corporate collections. Please visit her website; DustanKnight.com for greater biographical detail.
Hidden Stash January - March 2023

The York Public Library announces the next exhibition for their art program will be "Hidden Stash." The exhibit will show a sampling of the private collection of Chris Caraviello, owner of the Van Ward Gallery in Ogunquit, ME. The show includes contemporary pieces by local artists, and period pieces dating back to the early 1900's.
Chris Caraviello has been collecting since his teenage years. He has a degree in art history from Tufts University. Chris has owned and operated the Van Ward Gallery for the past 30 years.
The exhibit runs from January 4 th thru March 31 st , 2023 with the opening reception on Tuesday, January 10 th 5-7p.m. All are welcome to attend. Chris will talk about his acquisitions and how this collection emerged.
Ten Piscataqua Painters November - December 2022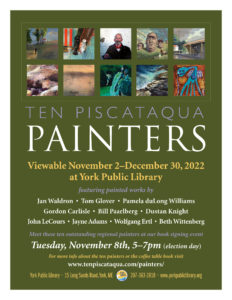 Select artworks by the 10 artists published in the coffee table book, Ten Piscataqua Painters, are on exhibit at the York Public Library, 15 Long Sands Road, during library hours, November 3 to December 28. Copies of the book will be available for purchase at the public reception for the artists, including a book signing, slated for Tuesday, November 8th, 5 to 7pm, the evening of election day.
The book is the second in a series of coffee table books dedicated to celebrating the diverse, outstanding talents of local artists in the Piscataqua Region, following the success of Ten Piscataqua Photographers, published in 2018. The Ten Piscataqua Painters celebrated in the book are Jan Waldron of Rye, whose The Way Home portfolio depicts narrative landscapes and figures in oil; Tom Glover of
Rollinsford with On The Docks, fishy abstractions in oil and mixed media; Pamela DuLong Williams of South Berwick, with My People, a collection of portraits and figures in oil; Eliot resident Gordon Carlisle whose humorous Yeah, But Is It Art? portfolio features acrylic-over-found Paint by Number paintings; and Kittery Point artist Bill Paarlberg's confident watercolor portfolio called City of Water and Color.
The five other artists whose portfolios grace the book are Dustan Knight of New Castle with her abstract landscapes in acrylic called Abstracting the Place; John LeCours of Epping with Harbour Light, featuring atmospheric harbor and river scenes of the Piscataqua in oil; Jayne Adams of Gonic with everybody, highlighting the human figure in oil; Hampton artist Wolfgang Ertl's Waterlands is a portfolio with a range of waterscapes in pastel; and Beth Wittenberg of Rochester's edgy portfolio Pandemic Blues, is a collection emphasizing abstract expression in mixed media. Created and helmed by re:Ports. co-founder and publisher Phillip Augusta, Ten Piscataqua was started as a way for the community to discover, explore, and celebrate outstanding local talent in the visual arts "one coffee table book at a time." Ten
Piscataqua Painters is the second book in that series, and introduces us to the diverse worlds and visions of ten regional contemporary painters using a variety of painting styles, media, and subject matter. Members of the visual arts community come together in this book in various ways," adds Augusta. The painters contribute their paintings. Ten Piscataqua also recruits local, creative professionals to produce and market, friends, fans, and art lovers collect and gift copies of it, and art patrons—businesses, organizations, and individuals help support our crowdfunding efforts with generous donations because they recognize the community benefits of supporting local genius.
For more information about the Ten Piscataqua books, including the new paperback
anthology Ten Piscataqua Writers 2022, visit www.tenpiscataqua.com
Berri Kramer - September / October 2022
"The Remains of the Day" -A layering of life's remnants.
Artist Statement
Collage is a curious method, constructed in layers, base to surface, top to bottom, left to right, all at the same time.  Life is a juggle, requiring balance and motion concurrently. One can always do more OR leave well enough alone.  The more risks there are, the more options appear. These thoughts surface constantly in my work. Events, places, people and ideas assume different characteristics in life depending on "who" they are "standing or sitting" next to. Patterned hues with torn edges adopt a particular point of view.
My background as a quilter was the foundation for the "piecing" in my work. I focus on similar narratives, resolved through different mediums. The individual elements are collected and "married"  into a format that will not only tell a story, but hopefully conjur up up emotions and memories that were once hidden away.  It is an honoring of precious remnants of the past that I hold dear.
This collection of work will include Collage, Mixed media and Encaustic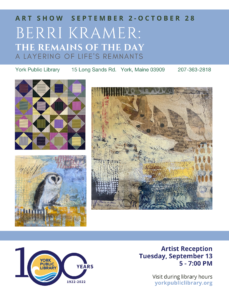 Biography
Berri Kramer grew up in Lincoln, Massachusetts and spent as many hours as she could in the studios at DeCordova Museum. She earned a BFA in Design and Crafts from Kent State University and a Masters in Fiber from Lesley University, Cambridge, MA.
As a textile artist she explored color, pattern, rhythm and construction. She worked for 25 years designing for Better Homes and Gardens. Bringing that background with her to paint, collage, cold wax and encaustic she utilizes her experience to voice a new layer of thought. Berri was the Founder and President of President of Heartwood College of Art where she has taught Color and Design and Explorations of Crafts. She is currently a full time artist in her studio in Kennebunkport, Maine.
"My work reflects the blocks of color and patterns that surround all of us everyday. I am fascinated by the tools and tracks that are unintentionally left behind. …a fiber remnant, a letter or a feather. The exercise in choosing from endless imagery and palettes, and editing it to distill the message, has become my practice in every medium. Often the scale of these snippets is exaggerated or reduced to take the viewer away from the "assumed." The simplest forms can often tell the greatest story. 
"If you chase two rabbits at the same time, you will lose them both."
-Russian Proverb
Centennial Auction Art Show - May / June 2022
In honor of its upcoming Centennial, York Public Library is hosting a "Centennial Auction Art Show" throughout May and June, featuring two dozen pieces by local artists. The artwork will be included in the Library's online Centennial Auction on June 10-18.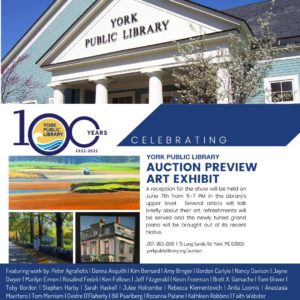 Artists who have previously shown their work in the Library were invited to contribute items to the Auction, along with several artists whose outstanding work is new to Library walls. The show will include works by Peter Agrafiotis, Donna Asquith, Kim Bernard, Amy Brnger, Gordon Carlyle, Nancy Davison, Jayne Dwyer, Marilyn Eimon, Rosalind Fedeli, Ken Fellows, Jeff Fitzgerald, Kevin Freeman, Brett X Gamache, Tom Glover, Toby Gordon, Stephen Harby, Sarah Haskell, Julee Holcombe, Rebecca Klementovich, Anita Loomis, Anastasia Maertens, Tom Merriam, Deidre O'Flaherty, Bill Paarlberg, Rozanna Patane, Kathleen Robbins, and Faith Webster. 
A reception for the show will be held on June 7th from 5-7 PM in the Library's upper level.  Several artists will talk briefly about their art, refreshments will be served and the newly tuned grand piano will be brought out of its recent hiatus.  
Members of the public will have the opportunity to bid on each piece, along with other treasures, in June. Proceeds from this year's auction benefit the York Public Library Association (YPLA), the entity responsible for building the original library in 1922-1926. Now a nonprofit organization, the YPLA owns the Library and protects its future, providing roughly 35% of the Library's annual budget.
York Public Library has a long tradition of showing artwork by regional artists. Exhibits have included sculpture, fiber art, and traditional, abstract, and contemporary art. The goal is to reach not only those who have a strong interest in art but also patrons who may or may not visit museums and galleries on a regular basis. 
Visit the Auction website at yorklibrary.cbo.io or learn more about the Centennial.
COMMUNITY COLLECTS ~ CELEBRATING THE ART OF PATIENCE HALEY with Panos Ghikas and Priscilla Haley January - March 2022
eginning in January and running through March 2022, the York Public Library will host a retrospective of watercolors and paintings by Patience Haley (1926-2020). Well known in her later life for her large vibrant watercolors of flowers, Patience was also a teacher, a conservationist, and an art restorer at several museums. Several paintings by her husband, Panos Ghikas (1917-2012) and prints of her sister Priscilla Haley will also be on display.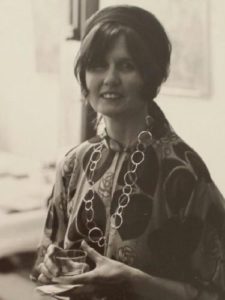 Patience E. Haley was born in 1926 in Boston, Mass. and passed away in York, Maine in August 2020 at 94 years of age. She attended the opening in 1953 of the Ogunquit Museum of American Art and had a watercolor show there in 2016. Ms. Haley was an active member of the Ogunquit artist colonies during the fifties and forward.
Master Gilder and Egg Tempera expert, Panos Ghikas (1917-2012) executed a mural in gold leaf for the World Trade Center's 110th floor restaurant, Windows on the World.
He and his wife, Patience, restored historic murals by Barry Faulkner at the Averill Harriman estate in Harriman, NY. He lived and worked in Boston for 50 years before moving to Maine in 1991.
Priscilla Haley, also an artist, was primarily known for her printmaking and was a member of the York Art Association. Her work reflects Maine, its rugged coast, islands, and ever-changing sea.
About Patience Haley
Patience E. Haley: The Maine Connection: Biographical Notes and Memories
My experience and accomplishments in my art world in and out of Maine might prove of interest here. Although born in Boston, Massachusetts, my sister and I came to Ogunquit many summers while in prep school and college working as waitresses at the old Lookout Ogunquit Club Hotel and the Beachmere Inn, as well as Kennebunkport and Camden, Maine.
I was fascinated by the lovely Lookout gardens of the Harry Merrills and Mrs. Merrill, knowing of our interest in art, asked us to arrange flowers for the hotel lobby every day. My Professor of Watercolor at Oberlin College Jesse Trefethen, came from Peaks Island, Casco Bay, and her palette would not allow black. Ellen Johnson, the renowned art historian and collector at Oberlin was also an inspiration as was Zaydee DeJonge Harris, Director of the Fitchburg Art Museum who was my teacher at Cushing Academy.
A summer on Orrs island while still in college proved to be a memorable experience when my sister and I would venture out each day, rain or shine, to paint realistic aspects of island life. It was here while having a show at a Bailey Island fish house that we met Henry Strater of Ogunquit and his great companion George Weare who were on a tuna expedition. Mike even bought a small watercolor of mine from the show. Little did I know that we were in the future to become colleagues of the Ogunquit Art Association. I made frequent trips to the offshore islands to paint with a friend who was in the sea-moss harvesting business which he started after Dartmouth. We would picnic on Mark Island and I was forever haunted by the solitude and beauty of this unspoiled island. Later I was to spend dark hours of a night marooned off Mark Island when our anchor got tangled. This island, its shape and starkness appears again and again in my work.
Summer evenings in Ogunquit were often spent in Perkins Cove "hanging out" with Hal Carney, wearing his Wesleyan sweater, Tony Mattei and others. The School of Painting and Sculpture was in frill swing with Laurent, Karfiol, Kuniyoshi among the instructors. I once did a sketch of John Lamberts schooner in the Cove for free rides all summer. In this same aspect I later lettered the first sign for Dick Perfkins' famous Poor Richard's Tavem at the head of Perkins Cove and enjoyed delicious casseroles in exchange. All the while I sketched rocks, flora and sea-life all along the coastal rocks and ledges. My father had known Charles Woodbury, being a Maine native himself, and I recall a spirited party at David O. Woodbury's home, his son, where artists and writers mingled. My mother, a Smith College art major from Indiana, spent time along these shores and urged me to use my own interpretation always.
After college I taught and curated at the George Walter Vincent Smith Museum in
Springfield, MA, where I won a First Prize and other awards while in the Springfield Art
League. Five years later I was in Middlebury, Vermont teaching painting at the college under Arthur K.D. Healy the well-known watercolorist and historian. We were out many days painting the verdant Vermont landscape. I lived at the Sheldon Historical Museum in exchange for curatorial duties. AKDH (as he was known) was a Director of YADDO, the artists' colony in Saratoga Springs, New York, and he helped make it possible for me to spend three summers at YADDO which were among the most inspiring of my career. I became a friend of Jacob Lawrence, the noted black artist over chess and egg tempera, and Milton Avery was also there along with Bob Coates and Hilton Kramer, the art critics.
Carson McCullers, the renowned playwright and writer of Member of the Wedding, was there as well. She was an eccentric lady who drank away each weekend with her friend, Tennessee Williams, who would arrive from New York in his Jaguar with a case of "spirits." But she took a liking to my work as did Elizabeth Ames, The Director, and gave me some great pointers.
Another summer was spent at the Highfield Art Workshop in Falmouth, Massachusetts, where inspiring teachers were Lawrence Kupferman, Walter Kamys and Mervin Jules. I began experimenting in Duca's new medium, polymer tempera or polyvinyl acetate. One of my large polymer temperas, Ancient City Walls, was later bought by Bart Hayes for the permanent collection of the Addison Gallery of American Art.
Abbot Academy offered me a position teaching art in 1956 and one summer while there I rented a cottage on Pine Hill Road in Ogunquit and I joined the OAA with David VonSchlegell as my sponsor. The following spring Fred Walkey of the DeCordova Museum gave me a one-woman show at the Museum and bought a watercolor for the DeCordova Collection. Back in Boston in 1959 1 showed in the juried Boston Arts Festivals and became a Designer for United Publishers, Rust Craft Division. The next year I won a coveted Tiffany Foundation fellowship and went to Ogunquit using a wonderful studio which Maggie Strater insisted I use. Several years later I was awarded a
MacDowell Colony fellowship where I met my husband to be, Panos Ghikas, and the rest is history. We were married a year later in the beautiåll Savidge Library on a snowy winter afternoon. We returned several times to work in that glorious mountain setting. In 1969 1 received a two year appointment as fellow in Painting at the Bunting Institute of Radcliffe College ending with a one-woman show at the Bunting Gallery.
Panos and I did quite a lot of art restoration throughout these years, from private collections as well as restoring large historical murals for Columbia University at Arden House in Harriman, New York. I also worked for Gustav Kliman in Boston as an inpainter.
All along Panos and I continued to come to Maine and Ogunquit as much as we could hoping someday to find a place of our own and that time came in 1991 when we bought our house on River Road in Cape Neddick. We renovated the old pig bam into a comfortable studio with views of an old apple orchard and rock gardens. It was wonderful to have a home in the country and by the sea after having spent my childhood in small country towns and farms throughout New England. Looking onto such simple natural aspects as grass, trees, river and sea together with picking wildflowers and feeding wild birds has definitely shown in a "new trend" in my watercolor paintings. I have also been fascinated by the dawns and twilights, things one doesn't see in years of city living. To coin a phrase it is akin to the return of the native to her "homeland" and I continue each day to marvel at the smallest things in nature and in the ecology of the countryside, and majestic sea.
Patience E. Haley – My Painting Philosophy
I believe that painting is a process, and with a great debt to the past, I am creating a present and a future. I feel that my work can simply and only speak for itself. Working primarily in a water based medium I have no long theories on why I paint as I do but rely on inward intuition and inspiration. When I begin a work I do not know how it will end.
Although I received a rather formal art education at college and in earlier years, my own painting style is hardly formal. In earlier years my teaching brought me in touch with many styles and expressions from my students and from my own experiences with art history. Those were the years of teaching at Middlebury College and at the George Walter Vincent Smith Museum in Springfield as well as at Abbot Academy in Andover, Massachusetts. Five years as a designer with United Publishers and greeting cards was a knowledgeable experience with the exactness and precision necessary, but, when it comes to my own personal expression there are no rules.
At the start of any work, I often just take a brush full of paint in a desired color or mixture of color either dropping it on a wet background or using a spray bottle to spread the paint. Immediately shapes and designs take place. This initial "happening" often decides what course the work will take – whether sea or foam or woodland ideas. When painting a floral inspired work my knowledge of flowers; their leaves and petals, their pistils and stamens has come through years of roaming woodlands in my early years, camping out with the Girl Scouts and collecting specimens of wild plants. As each minute changes our environment, so does each minute change in a watercolor which in my opinion should not be too controlled. This is my belief only. There are millions of painters who believe the opposite. I can draw and can draw well but I choose not to draw a plan or cartoon of what the painting will be. for me the excitement lies in not knowing exactly what will happen. The paper itself creates designs, the ridges overflow with color and "Accidents" become realities. In recent years my work in art restoration has indirectly been an asset in my own painting for it has shown me how errors in drawing, painting and the use of non-pennanent materials can change the whole surface and appearance of what is supposed to be a "work of art. "
 Without being literal in expression I use patterns and forms inherent in ecology, geology and fossilized sea life as well as the flora of sea meadows and salt marshes. The islands of Maine where I have explored and lived hold my fascination with their solitude, light, majestic firs, and conglomerate ledges. Various phases of the sun and moon, dawns and twilights also make their appearance in my work. The rich inspiration of Maine is native to my blood with the mystique of centuries old ancestry as a descendant of 17th century settlers on the Isles of Shoals. My grandfather, a Methodist preacher and orator spoke on many of the islands and outposts of Maine. My mother's family were pioneers from Indiana who forged the way' to the West in covered wagon days. With this great spirit in my mind and my great interest in our environment, I strive to interpret the mood and beauty of a natural world. That is the key word – to interpret!
My watercolor supports include Whatman and Fabriano watercolor papers, Ogura rice papers, which I often use with silver or gold leaf, and various types of illustration board. I rely on Winsor Newton brand watercolors in tubes and use permanent LUMA inks sparingly.
Speak, Memory November - December 2021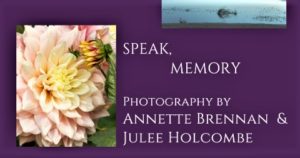 A new exhibit of photographs will open on November 2, 2021, at the York Library, entitled "Speak, Memory."  The two photographers, Annette Brennan and Julee Holcombe, engage both memory and photography in very different ways.
When photography first developed in the mid-nineteenth century, it seemed   that the photo was a "mirror of nature" that captured the true image of its subject.  The need for long exposure times led early photographers to choose immovable subjects such as buildings; improvements in lenses and film allowed more portraiture—yet people still had to hold their poses for many seconds. Families documented their members then, just as they do today, to preserve memories of people, occasions, places and events.
For some photographers such as Annette Brennan, the truth-telling record of the photograph remains important. The artist's eye is engaged by the nature of the scene and the patience to wait for the exact moment. Light at just the right time of day, a bird or animal captured just as its pose conveys its essential qualities—photos that capture a fleeting slice of reality and its beauty testify to the photographer's skill.
 Taking an opposite tack, Julee Holcombe's photographic prints are the results of her digital remixing of various components.  Her own photographs are taken in far-flung parts of the world; she sometimes borrows images from artists who practiced in other eras. Some of her digital manipulations deceive the eye while others create the abrupt shifts of a collage. While she hopes to capture the essential qualities of human experience, she does so through meditating on many images, combining them to convey "the complex nature of the human condition." The results may seem surreal rather than naturalistic.
These two artists give us the opportunity to reflect on memory. The naturalistic subject matter preserves the appearance of a bird, a flower, a landscape as we remember it. The photograph triggers memories in the viewer of related scenes and moods.  The altered photograph's task is not to preserve memories but to instigate a chain of associations in the viewer's mind, akin to the associations our dreams conjure up. These transformed fragments of memories become new ways to remember the world.
Edge of the Land, Edge of the Water - September / October 2021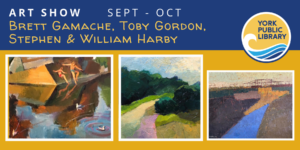 The York Public Library exhibit "Edge of the Land, Edge of the Water" is now on view until October 29. The exhibit features three New England Artists with very different styles, all representing their views of the landscape.
Stephen Harby, an architect who lives in York in the summer, is an expert watercolorist. His representational paintings include many of views of York and other Maine sites as well as views of sites in Italy, Southeast Asia, and elsewhere.  His fresh execution delivers a sense of spontaneity while the white of the watercolor paper suffuses the scenes with light.
Toby Gordon lives and paints in Kittery Point, Maine. She studied painting and drawing at the University of New Hampshire and has taken workshops with artists Tom Glover, Wendy Turner, and many others. Her paintings employ the palette knife and create impressions of landscapes pared down to their essence and sometimes to abstraction. Her beautiful colors create a calm and reflective space.
Brett Gamache's landscapes often include people in recreational or work settings. In his studio in Ipswich, MA, he composes very colorful canvases, sometimes executed with heavy oil paint.  He simplifies the forms of his subjects yet conveys a realistic sense of light, action, and place.
On a different note, the glass showcases at the front of the Library contain a series of delightful small sculptures of animals by Jeff and Carol Tollefson. Their experience making thrown clay vessels led them to hand-built work and then to sculpting their interpretations of animals—both natural such as monkeys, and fanciful such as dragons–in that same clay.  These fired clay creatures would be a perfect accent for a home library shelf!
Amy Brnger April - June 2021
Amy Brnger :  A Tour of Seasons
amybrnger.com
Instagram: @amybrnger
 
Artist Statement
As long as I have painted I have been influenced by seasons and my emotional state while I work. My approach to a bouquet, a landscape, or an interior will be different depending upon weather, the quality of light, whether I am tired and crabby or energized and happy. All are reflected in the final image. The way I push paint around a panel, feel the paint on my palette knife and brush, is dependent upon my feeling state. 
 I try hard to keep the surprises that make their way onto a panel and stop the painting a few steps before it is finished. Sometimes the image might look awkward and slightly underdone, but if it feels genuine and somehow a reflection of how I see the world in that particular moment, then I want to keep it. When I keep working past that point, the likelihood of scraping the response away is great. 
 Though this year has been challenging and I often feel worried, anxious and sad, I continue to see beauty in our world. As you look at my flowers and interiors in January, birds and blooms I am happy to see again in May, reflections of my studio and hot bright roofs in August, or the somber light of fall landscapes and end of season blooms, I hope you can catch a glimpse of the world as I see it. 
More About Amy
Amy Brnger is a New Hampshire native who grew up near Keene, lived for a long time in Portsmouth but recently moved to Eliot, Maine. She studied painting at the University of New Hampshire and has worked as an artist since 1987. In 2012 she began making cards, calendars and prints from her paintings and opened Amy Brnger Art and Paperworks. Her paintings are shown in Maine, New Hampshire, and Massachusetts. 
Amy has painted still life, flowers, interiors and landscape for as long as she has been an artist. She uses nature as a vehicle, or an excuse, to paint, and enjoys painting places and things with and about which she is familiar or curious. Forgotten and overlooked places are a particular favorite. Her paintings are expressive, energetic, and attempt to capture the changing nature of living things. 
Amy has been teaching painting since 2012, but has been a painter for over 35 years. Thanks to the Coronavirus, she finally took the plunge and learned how to teach online and loves it. Her classes and workshops are available on her website, amybrnger.com, as well as with the Winslow Art Center in Bainbridge Island, Washington.
Barbara D'Antonio January - March 2021
Artist Statement: 
"My paintings are influenced by the Post Impressionists' works in The Barnes Foundation. Specifically, Bonnard and Matisse.  I'm inspired by the artist that have come before me. My eyes look at the world around me, but what I see has been filtered by the artists of the past. What is actually there?  I don't know, but the work that emerges includes a little bit of reimagined memory, and a whole lot of art history. My works are in private collections in the United States as well as in Crete, Greece and Spinetoli, Italy where I lived and worked in the summers between 1985 through 2014.  I consider myself a modern figurative artist."
About My Studio
My studio is a former boat house located on the Back Channel of the Piscataqua River in Kittery, ME.  Build in the 1800's as a school bathroom, it was later moved to the water's edge as a work shop for the neighborhood lobstermen to repair traps and set bait.  Its' many windows flood with light and reveal the ever-changing river views and the variety of waterfowl living there.  The studio is open to visit.  Please call ahead: 207-703-0554.
Education (1970's and 1980's)
Main Line Center for the Arts, Haverford, PA. Primary Influence:  Biagio Pinto, Painter
Bryn Mawr College, Bryn Mawr, PA Primary Influence:  Fritz Janschka, Printmaker
Haverford College, Haverford, PA Primary Influence:  Bruce Gagnier, Sculptor
The Barn's Foundation, Merion, PA Teacher:  Violet DeMazia
Fleisher School of Art, Philadelphia., PA Primary Influence:  Francis McCarthy, Life Drawing
Group Shows
Newburyport Art Association, Newburyport, MA, 1992 and 1993
Kittery Art Association, Kittery, ME, 2012 through 2020 (Spotlight Artist: April, 2017)
Morgan Gallery, Kittery, ME, two separate shows in 2016 and 2017
The Barn Gallery Regional Show, Ogunquit, ME, 2017 and
Haley Art Gallery, Kittery, Me, 2019 and 2020.
Maryse Newton, Thomas K. Merriam, and Lucy Johnson October - Dec 2020
Multitalented artists Maryse Newton, Thomas K. Merriam, and Lucy Johnson bring color, calmness and their love of nature to our Library walls this fall. Maryse finds balance and calm on the distant horizon and energy in the fresh Maine Salt air. Thomas's paintings, wood sculptures and sign carvings reflect his roots as a Maine native. His lifelong observation of the "wilds of nature" is captured in many of his paintings of local (and not so local) animals. Lucy Johnson (1946-2016) was a multi-media artist who lived in Eliot. Her paintings offer us a safe haven for an engaging visual experience.
Maryse Newman
marysekn@hotmail.com
Maine Coast III – acrylic – 30" x 48"
Maine Sparkle – acrylic – 48" x 24"
Lucy Johnson
Untitled – Oil – 34" x 40"
Untitled – Oil – 40" x 46"
Tom Merriam
leapnlobstas@yahoo.com
Covid Lion – Oil – 64" x 44"
Sanctuary Arts July - August 2021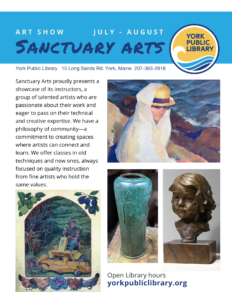 Sanctuary Arts proudly presents a showcase of its instructors, a group of talented artists who are passionate about their work and eager to pass on their technical and creative expertise. You may enjoy a sampling of the art virtually in the online gallery below. Click on the images to enlarge them and more fully enjoy each piece, and visit the Library during open hours to view the full exhibit. More information about the artists can be found in a binder at the Library. If you are interested in purchasing one of the pieces, please contact the artists directly.
FEATURED ARTISTS: Christopher Gowell | Joshua Langstaff  | Bill Paarlberg | Lauren Dow | Josh Dow | Alastair Dacey | Sean Kramer | Anthony Alemany | Sean Beavers | Bob Ellis | Tom Glover | Amanda Letscher| Sydney Sparrow | Russel Whitten | Alice Carroll
About Sanctuary Arts
Sanctuary Arts started in 1997 when founder Christopher Gowell, a figure sculptor with an MFA from Boston University, moved to Eliot from Portsmouth's Button Factory Studios to begin her own art and teaching studio. She and friend Rob Wallis, purchased the old Methodist church on Bolt Hill Road, with the intention of creating a community of artists that she could work with and learn from. Over the years the space has evolved into a community art space focusing on fine art education. Green Foundry was created when Josh and Lauren Dow decided to take on running the foundry that Christopher built and now cast fine art sculpture in bronze, aluminum and iron, from all over the region. Christopher continues to take one or two classes each semester and is learning to paint after being a sculptor for over 50 years.
Originally a Methodist church built in the 1850's using hand hewn beams, the tin ceilings and walls of Sanctuary Arts sing with life. It had been a place for the community to gather for more than a hundred years when the last occupants decided to sell. This space continues gathering the community. Inside these beautiful tin walls many have celebrated births, deaths, weddings, art shows, music shows, inaugurations, the list goes on. Sculpture gardens created by Judy Andrews and maintained by Julie Marvin, and stone scapes by Alan Eves and Steven Carpenter enliven the grounds. We have a philosophy of community—a commitment to creating spaces where artists can connect and learn. We offer classes in old techniques and new ones, always focused on quality instruction from fine artists who hold the same values. Come take a class with us and see for yourself the power of a space with history and intention and the beauty of garden spaces. www.sanctuaryarts.org
SANCTUARY ARTS CONNECTS Scholarships
Sanctuary Arts Connects is our new nonprofit organization that works to create opportunities for the exploration of artistic expression for members of our community regardless of financial or social background. Sanctuary Arts community is a space where the developing mind can investigate the skills of art making and build confidence while learning practical, technical, conceptual and critical thinking skills. We believe these skills should be accessible to all in our community. The making of art is a skill that connects us back to our inner selves, requiring the use of our hands, minds and hearts. Donate or inquire about a scholarship at www.sanctuaryartsconnects.com
Between Now and Then July - August 2023
Linda Gerson
Artist Statement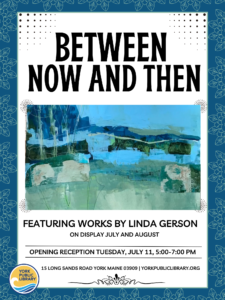 My abstract art is inspired by interactions with the natural world, my dream life, and psychotherapy with clients. Working with paint, collage, ink, pastel, and graphite my work is a visual interpretation of the present moment. The process is intuitive based on each shape or line informing the next with no
known discernable outcome. Creating paintings is reminiscent of doing psychotherapy in which layers are added and subtracted. A unified composition gradually emerges from what came before and what becomes integrated into the
most recent mark making. I hope to create art that is compelling enough to invite the viewer to examine the art more closely and reflect upon their own unique response.
Biographical Information
Linda Gerson is a contemporary abstract artist working in acrylic, collage, and various mixed media. She grew up in New Jersey and has been living and painting in Maine for thirty years. A graduate of Simmons College and Boston University, Gerson also studied at Maine College of Art and Design. During that time she participated in an art retreat to France and founded a monthly critique group attended by artists who studied with Janet Manyan. Gerson's numerous exhibitions throughout New England include several solo shows at Stonewall Gallery in Yarmouth, Maine and several curated exhibits at Maine Jewish Museum. Her work is in a permanent
collection at York Hospital. She has been described by the Portland Press art critic, Jorge Arango, as having "a wonderful sense of dynamism….and a lucid, lyrical manipulation of color and form." Linda works part time as a psychotherapist and paints in her home studio the remainder of the week. Each process is separate but influences the other, is deeply personal, at times uncomfortable but also richly satisfying. She resides in southern Maine with her husband, Ray, and their rescue dog, Annie.
For Sales inquiries contact:
Linda Gerson
207-337-0307 or 207-646-2193
Website: www.linda-gerson.com
Instagram: linanne4art