York Public Library Art Exhibit
Provided through community support.
About the Current Exhibit

November 2 – December 30

Your Title Goes Here
Your content goes here. Edit or remove this text inline or in the module Content settings. You can also style every aspect of this content in the module Design settings and even apply custom CSS to this text in the module Advanced settings.
Jan Waldron
Artist statement
Oil, acrylics, mixed media, watercolors, ink, graphite, photography — why limit the possibilities. I am always looking — at light and shadows, at the subtlety of colors. Often a painting arises from a combination of collected perceptions and a deep emotional response to them — a sense of home, young summers, or imagined retreats.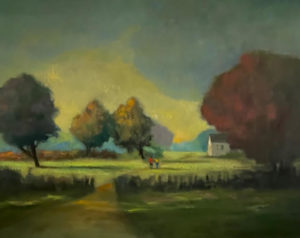 Bio
My work is in private collections throughout the country, and internationally. I have been represented by the Bowersock Gallery in Provincetown, MA, and on line at artsy.com. I have studied with E.M. Saniga, Stuart Shils, Adeline Goldminc-Tronzo, and DeWitt Hardy. 
Pamela duLong Williams
Artist Statement
"Portrait painting from behind the easel….the art of listening"
"I have been a self taught portrait and figurative painter/teacher since 1970. In 1998 I came to Portsmouth to paint a portrait for the Boston State House Collection.
My process of portrait painting is from life and entirely inspired and directed by the personality and body langue of the sitter. I would like to share that zig-zag journey. How the painting directs me start to finish."
Ms. duLong's lifetime study of art began as a young girl in her Dad"s studio and private lesson with various Boston artists.
She graduated from commercial art school in the seventies and worked as a designer/illustrator in NYC until she decided to pursue her love of painting in 1974.
Although the study of the traditional academy of painting never interested her she loved painting the portrait in the manner of the impressionist which led her to develop her unique style of portraiture that continues to evolve after more than forty years of painting.
Pamela's commitment to painting what interests her has taken her work on long journey of painting not only people but places and things that she loves.
A great source of her creative motivation comes from teaching the devotees she has taken with her painting all over the U.S., Canada, Mexico, and Italy as well as her weekly classes and workshops.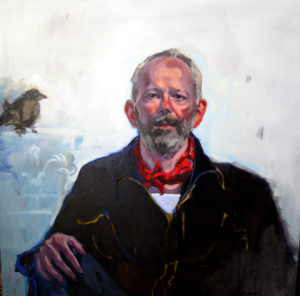 Bio
PAMELA DULONG WILLIAMS attended the Art Students League, NYC, The Boston Museum School of Fine Art and graduated from Vesper George School of Art, Boston, MA.
Ms. duLong has taught at the Silvermine School of Art, UNH, Rowayton Art Center, Rowayton, CT, Wentworth Coolidge Art Center as well as numerous workshops in this country and abroad since 1976.
Her works have exhibited in competitions and collections such as the National Academy of Design, Allied Artists, NYC, The State House Collection, Boston, MA, and  The Cone Collection of Wilmington.
She has been featured in Coastal Living Magazine and Artist's Magazine as well as many galleries from NY to Florida as well as Italy.
Currently Pamela works in her private studio in South Berwick while maintaining a Kittery Maine studio for teaching.
Tom Glover
Artist Statement
I try to understand states of feeling I get from the world and bring them forth in paint. Abstraction is the way I generally approach that endeavor, but inevitably the immediacy of the canvas with the colors I put down evoke yet other feelings which then become part of the process.  The origins of a painting are clearer when they are painted in a more realistic manner. Quite often they will be subject to experimentation and may lead to more and more abstract fiddling and diddling. There is much improvisation in the abstract work and sometimes one must let the canvas take the reins, so to speak.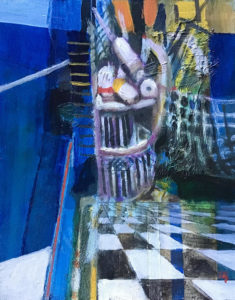 Bio
After studying with John Laurent, John Hatch, Sigmund Abeles and Conley Harris at the University of New Hampshire, Glover continued critiques with Laurent for a couple of decades. He followed Laurents advice to go see, "in the flesh", the Great Masters. Tom's older brother is an airline pilot, so he caught, from time to time, flights with his brother to Rome, Florence, Milan, Paris, Amsterdam and Madrid. He did artists retreats, found galleries to show in, and painted and painted and painted.
One of his first retreats was on White Island of the Isles of Shoals off the coast of New Hampshire. He was one of the last artists to spend a week on the island which at low tide adjoins Seavey Island. It had no phone, no electricity, no bathroom, no potable water. The old Coast Guard station building was described to him as, " a wooden tent". The gulls had broken into every room except one, which was an upstairs bedroom. But it afforded time to look, draw, paint, write, think all uninterrupted.
In 2000 Glover was one of eleven artists asked to Artsweek Retreat on Great Spruce Head Island, owned by the family of Fairfield Porter. Glover was able to use Fairfields easel and had free range to explore the entire island as well as access to kayaks and rowboats to explore the island from the water and surrounding islands. Block Island is another place of interest to Glover and he has explored it on several occasions. It became a sort of fortunate formula for Glover to visit a place, explore it, do a series of paintings based on his explorations, and then to have a show at one of his galleries. Sales from the shows allowed him to venture off to other places. Pieced together with his ability to fly for very little almost anywhere, and the generosity of friends and collectors, he was able to visit Italy several times–the Cinque Terre, Ascoli Piceno, Siena,
Todi, Montelpuciano, Cortona, and many other towns in Tuscany, Marche and surrounding regions. He has also traveled to England, Ireland, Costa Rica, New Mexico, Arizona, Prince Edward Island and Nova Scotia.
Glover also has taught at the University of New Hampshire and teaches presently at Sanctuary Arts in Eliot, Maine. He has been an Artist in Residence on Appledore Island for the Shoals Marine Laboratory. He is a certified Weed Scuba Diver in the state of New Hampshire. He is also an oil painting restorer and works as picture framer and art restorer
at Riverstones Custom Framing in Rochester, NH.
Jayne Adams
Artist Statement
I am a lifelong figure painter. The expressive nature of the human form is my passion for oil painting.  My process begins with direct observation from life models. My interests are with compelling, spatial arrangements and perspectives which enhance the visual dynamic for an intriguing, figurative form. On large scale panel supports, I work with expressive under drawing, fluid and deliberate brushstrokes, and high key color notes.  My various mark making is layered throughout, coinciding initial applications with later stages of painting. The economy of selective painting is essential in my process to maintain a sense of inherent liveliness within the composition. I strive for a visual pull or undertow which will allow sustained attention to the piece.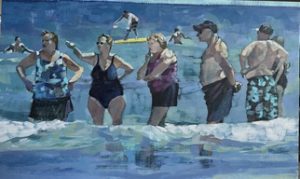 Bio
Fine Artist:  Paintings, Drawings, Mixed Media, & Sculpture
Personal info:   Jayne grew up in the Great North Woods of NH.  A visual artist since early childhood, she was greatly influenced by her high school instructor, Robert Hughes.  At age 16, she attended summer sculpting workshops at the White Mts. Festival of the Arts in the mountain valley of Jefferson, NH.  There, she worked alongside Hughes, Jean Bartolli, Cabot Lyford, Winslow Eaves, visiting artists from Montreal, and many others. This was an invaluable experience which hooked her to a life of artistic discovery and exploration.
Education:
The University of NH, with a BFA in oil painting.
White MT. Sculpture Workshops, White Mt. Arts Festival, Jefferson, NH.
On going figure study with artists groups working with the model.
Exhibitions include:
Arena One Gallery, Santa Monica, CA (National Women's Caucus of Art)
George Marshall Store Gallery, York, ME
The Currier Museum, Manchester, NH(NH Art Association)
Hera Gallery, Wakefield, RI.
Fitchburg Museum, Fitchburg, MA.
Coolidge Center for the Arts, Portsmouth, NH.
The Silver Center, Plymouth State University, Plymouth, NH.
Bowersock Art Gallery, Provincetown, MA and Mt. Dora, FL.
Maine-Art Gallery, Kennebunkport, ME.
Awards:
3 time Currier Museum of Art Award, Currier Museum, Manchester, NH and the NHAA.
Lacroix Award for painting.
The Holland Sister's Award.
The Lassonde Award.
others.
Affiliations:
Bowersock Gallery, Provincetown, MA (2009-present)
The Ogunquit Art Association with summer exhibits at the Barn Gallery, Ogunquit, ME (1999-present);
Maine-Art Gallery, Kennebunkport, ME (2010-2014);
The NH Art Association and the R. L. Levy Gallery, Portsmouth, NH (1992-2008);
Arrival Art Gallery, Kennebunkport, ME (1995-98).
Collections:
The Frisbie Memorial Hospital, Rochester, NH;
The Professional Arts Center, Rochester, NH;
The Maine Broadcasting Co., Bangor, ME;
Numerous private collections in the US, Canada, and Germany.
Currently:  lives and works in Gonic, NH.
jayneadams.com
Though there is bold and painterly expressiveness, the smaller nuances of the figure's subtle gestures are significant. Where the fingers touch, the arms extend, or where the foot or head rests creates tension and visual pivots within the painting. The figure, though seemingly at rest, is active. Maintaining this sense of the figure's natural grace or "humanness" is paramount.
Capturing this sensibility is what drives me to paint and to experience the moment when the painting is realized, that it "sings", resonating long after the final brushstroke.
Gordon Carlisle
Artist Statement
Growing up in the '50's and '60's, I was familiar with Paint-By-Number paintings. I might have tried one or two, but my parents discouraged me from pursuing it. I discovered them again in the 1980's, finding finished ones at yard sales and thrift shops, often in their original frames. They intrigued me, so I began collecting them. Then I found I could augment these relics with modern acrylic paints, and that opened up a whole new avenue of expression for me. I could add entirely new layers of meaning or outright ridiculousness to these artifacts. I developed a character I call "Mr. Slick," a plein air painter who thinks he's got it all figured out, only to be thwarted by elements out of his control. He's a satirical version of myself, of course, and makes an appearance in several of these artworks. Far from the totality of what I create, these repurposed Paint-By-Number paintings are a fun release for me. Enjoy!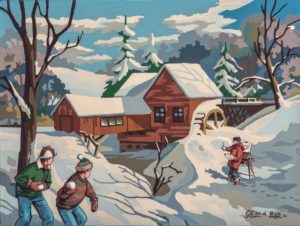 Bio
Trained in my youth as a portrait artist, I was a 1973 graduate of the San Francisco Art Institute. Now an award winning artist featured in numerous collections, I've had eleven solo exhibitions of my artwork across the country since 1989. I've also participated in over 55 group exhibitions. Since 1984, I've made my living primarily as a Public Artist, working largely in Maine and New Hampshire. I supplement this income with portraiture, graphics and illustration, theatrical set design and sales of my original artwork. My wife Susan Poulin and I also tour our original theatrical productions throughout the Northeast. For these I contribute writing, script editing, musical composition, set design and behind the scenes technical accompaniment. In 1999, I was awarded a New Hampshire State Council on the Arts Individual Artist Fellowship for my work as a mural artist.
Bill Paarlberg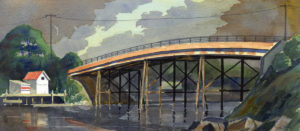 Artist Statement and Bio
Bill Paarlberg grew up in Hampton, New Hampshire and now lives in Kittery Point, Maine. His earliest memories are of the excitement of making arrangements out of sticks and stones and leaves. He has worked for many years as a freelance editor, illustrator, and graphic designer. In the 1980s he drew ink and pencil scenes of Portsmouth. He now paints in watercolor and teaches at Sanctuary Arts in Eliot, Maine. Bill is motivated by the beauty of the outdoors and nostalgia sparked by old buildings. He has great affection for the Isles of Shoals. Each year he paints for a week on Smuttynose Island, and teaches plein air painting at the Shoals Marine Lab on Appledore Island. For more about Bill Paarlberg's artwork visit his website at
www.paarlberg.com, and see his work on Instagram at billpaarlberg.
John LeCours
Artist Statement
I have recently discovered Plein Air painting in Portsmouth Harbor………
"this intuitive dialogue
with the Sea and the Elements has allowed me to produce my most authentic work and has enabled me to discover my true voice as a visual artist . "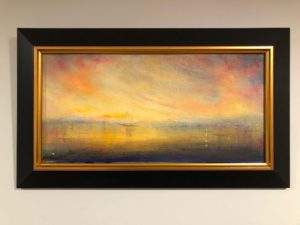 My creative process centers on a direct and intuitive response to nature and the elements in the tradition and lineage of JMW Turner and James Abott MacNeil Whistler. My epiphany as an artist occurred a few Summer's ago when I discovered Plein Air painting at dusk in Portsmouth Harbor……this dialogue with the Harbor led to a one man show at the Levy Gallery in Portsmouth,NH which ended up selling out……This show also allowed me to be discovered by the Ceres Gallery in Portsmouth, which opened the doors for Maine Art Hill Gallery in Kennebunk, Maine as well as Jackson Art Gallery and Prospect Hill Home Gallery .
And most importantly , sales of my paintings have allowed me to form lasting friendships with collectors from across the United States , Canada and England .
I have been very fortunate and humbled by my success as an artist , and take none of it for granted as the Art World and Art Market can be very fickle and can change in an instant . 
Wolfgang Ertl
Artist Statement and Bio
My academic background is in the field of literature, but I have also had a lifelong interest in the history and theory of art and started painting in my youth in Germany, always equally drawn to abstract compositions and more or less representational landscapes.
A professor emeritus at the University of Iowa, I moved to New England in 2005 and now reside in Hampton, NH. I have participated in various juried exhibitions in Maine, New Hampshire, and Massachusetts. My paintings have also been exhibited in solo and small group shows in several galleries.
While I endeavor to capture the atmosphere, topography, light and colors of various locations in the United States, Canada, and Europe, I am less concerned with "realistic" representation of observed landscapes than with creative stylization and abstraction. My creative process often also results in imagined landscapes and non-representational abstracts. Pastel has been my favorite medium for many years, but I also enjoy working with oil and acrylics.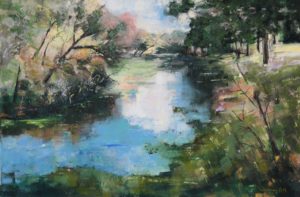 Education
Ph.D., University of Pennsylvania (1975)
M.A., University of New Hampshire (1970)
B.A., Philipps University of Marburg, Germany
Professional Positions
Professor Emeritus, University of Iowa (2006 – )
Professorships at University of Iowa (1977-2006, Department Chair, 1988-1996, 1999),
Swarthmore College (1976-1977); Lecturer at University of Pennsylvania (1974-1976)
Resident Director, Academic Year in Freiburg, Germany (2000-2001, 2004-2005)
Membership in Art Associations
| | | |
| --- | --- | --- |
| Pastel Society of America, Juried Associate Member | Art Guild of the Kennebunks, Juried Member | |
| New Hampshire Art Association, Juried Member | Newburyport Art Association, Master Artist | |
| Pastel Society of New Hampshire, Signature Member | Abstract Artists Group of New England (NAA) | |
| Pastel Society of Maine, Signature Member | | |
Recent Group Exhibitions
2022
Pastel Painters Society of Cape Cod: 26th National Juried Exhibition "For Pastels Only", Cape Cod Cultural Center, South Yarmouth, MA, June 21 – July 17
Pastel Society of New Hampshire: 17th Members' Exhibition, Wolfeboro Public Library, Wolfeboro, NH, July 2-30; 14th Annual National Juried Exhibition "It's Pastel!", Discover Portsmouth Center, Portsmouth, NH, Oct. 23 – Nov. 18
Pastel Society of Maine: 2022 Annual Open Juried Exhibition "Pastels Only", Saco Museum, Saco, ME, Aug. 24 – Oct. 21
Portsmouth Public Library's Levenson Room: Ten Piscataqua Painters, Portsmouth, NH, Jan. 1 – Feb. 3
New Hampshire Art Association: Friends and Lovers, Robert Lincoln Levy Gallery, Portsmouth, NH, Feb. 2-27; Awakening, March 2-27; 36th Annual Omer T. Lassonde Open Juried Exhibition "Ritual" , March 30 – May 1; Abstract Show, May; Bienvenue, June 2-26; Come Together, The Art Center, Dover, NH, June 3-30; Melt, Robert Lincoln Levy Gallery, Portsmouth, NH, June 29 – July 31; Colors of Autumn, Aug. 31 – Oct. 2; Crème de la Crème, The Art Center, Dover, NH, Oct. 3-29; Dark and Light II, Oct. 5-30
Newburyport Art Association: Winter Members' Juried Show, Part 2, Newburyport, MA, Feb. 4-27; Master Artist Show, Part 1, April 22 – May 15; 25th Annual Regional Juried Show, May 20 – June 12; Love is Love, June 15-25; Nature's Kaleidoscope: Our Animals Great and Small, Newburyport Senior Center, Aug. 2 – Nov. 12
Art Guild of the Kennebunks: Art Exhibition, Brick Store Museum's Bauman Gallery, Kennebunk, ME, May 13-20; Pop-up, Art Hill, Kennebunk, ME, Sept. 15-21; Awards Show, Community House, Kennebunkport, ME, Oct. 1-2
Lane House Arts Center: Dusk and Dawn, Hampton, NH, Feb. 2-28
Great Bay Discovery Center: 16th Annual Art of Great Bay Show, Greenland, NH, April 9-10
River Tree Arts: Highlight: A Community Art Show, Kennebunk, ME, May 27 – June 17
Exeter Public Library: Ten Piscataqua Painters, Exeter, NH, May
Ongoing exhibits in W. Barrett Gallery, Portsmouth, NH; Marelli's Market, Hampton, NH
2007-2021   See www.wolfgangertlart.com
Solo Exhibitions
York Public Library, York, ME: Landscape Paintings, 2008, 2009, 2010, 2011
Lobby for the Arts, Provident Bank, Hampton, NH: Landscape Paintings, Mar. 4 – May 31, 2012
Center for the Arts, New London, NH: Landscape Paintings, May 1 – July 31, 2012
Lane Memorial Library, Weston Gallery, Hampton, NH: New England Landscapes in Pastel, 1-31, 2012
Partridge House, Hampton, NH: Art for the Ages, 14, 2012
Oregano Pizzeria & Ristorante, Newburyport, MA: The New England Landscape in Pastel, July 1–Aug. 31, 2013
Just Us Chickens Gallery, Kittery, ME: Landscapes and Abstracts in Pastel, Sept. 3-28, 2013
Hampton Town Hall, Landscape Paintings, Hampton, NH, Sept. 6-30, 2013
Seacoast Repertory Theatre (NHAA), Paintings, Portsmouth, NH, June 13 – July 19, 2014
Farley's, Landscape Paintings, Newburyport, MA, October 7-21, 2015
Spurling Infinity Center Art Space: Solo Show, Kennebunk, ME, October 2021
Awards
New Hampshire Art Association: Prescott Park Arts Festival Open Juried Exhibition, First Prize (2014), Honorable Mention Award (2016); Dunfey Open Juried Exhibition Honorable Mention (2018); 20th Annual Joan L. Dunfey Open Juried Exhibition Honorable Mention (2019); 36th Annual Omer T. Lassonde Open Juried Exhibition Honorable Mention (2022)
Newburyport Art Association: NAA Honorable Mention Award for Work in Pastel (2013), Laura Coombs Hills Award for best work in pastel (2014), NAA Honorable Mention Award for Work in Pastel (2015); Laura Coombs Hills Award for best work in pastel (2018), Institution for Savings Charitable Foundation Award for Best Work in Oil (2019), Newburyport Bank Award for Best Work in Oil (2019), Best Work in Pastel (2021)
Art Guild of the Kennebunks: 2nd Place (2012), 1st Place Pastel (2013), 1st Place Pastel (2014), Best in Show (2014), People's Choice Award (2016), 1st Place Pastel (2017), 1st Place Pastel (2018), 1st Place Pastel (2019); 1st Place Pastel (2021)
Pastel Society of New Hampshire National Juried Shows: Pastel Painters of Maine Award (2012, 2013), All-In-One-Easel Award (2014), Heilman Designs Award (2015)
Pastel Society of New Hampshire Members' Exhibitions: Soltek Easel Award (2008), Barbara B. Danser Founders Award (2009), Teresa Kimball Award (2012); 2nd Place (2019), 2nd Place (2021)
Pastel Painters of Maine / Pastel Society of Maine International Juried Exhibitions: Merit Award (sponsored by Pastel Society of New Hampshire, Pan Pastel, and American Frame) (2016); Honorable Mention Award (2022)
Pastel Painters of Maine Members' Exhibitions: 3rd Place (2010), Honorable Mention (2011)
York Art Association Juried Exhibitions: 2nd Place (2009), 2nd Place (2010), Honorable Mention (2010), 2nd Place (2011), First Place (2012)
10/15/2022
Beth Wittenberg
Artist Statement and Bio
Beth Wittenberg lives in rural New Hampshire with her wife, Sheri, her dog, Penny, and an old kitty named Raney.
Most days she spends talking to strangers about their travel experiences and creating art at home. Beth maintains an open invitation to other artists who wish to collaborate and opens her home to do such. She has been creating artwork professionally for over 25 years.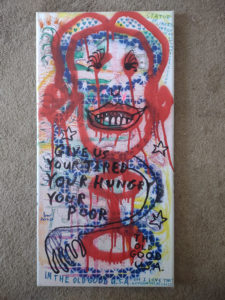 EDUCATION
1998 Master of Fine Arts, Maryland Institute College of Art, Baltimore, MD
1991 Graduate coursework in Art Education, Rochester Institute of Technology, Rochester, NY 
1991 Bachelor of Fine Arts, Magna Cum Laude, Slippery Rock University, Slippery Rock, PA 1989 Bachelor of Arts, Phi SIgma Tau – Philosophy Honor Society, Slippery Rock University, PA
2018
Foster's Daily Democrat
2/19/2018 – "The Whimzees of Beth Wittenberg"
2/20/2018 – "The Veil coming to Newmarket Millspace"
Maine Arts Journal, Summer 2018
"Beth Wittenberg, from the studio" in depth photo essay
Rochester Radar
9/24/2018 – "Rochester Library to feature art of Beth Wittenberg"
Maine Today Magazine, Portland Press Herald
11/22/2018 – Against Every challenge life deals, Beth Wittenberg answers with Art"
2016
Foster's Daily Democrat, The Edge
8/3/2016 – "Wittenberg's Mural Makes Statement"
Foster's Daily Democrat
7/22/2016 – "Protest Artist Faces Charges for Street Mural" 7/26/2016 – "Police investigate BLACK LIVES MATTER art" Foster's Daily Democrat, The Edge
3/29/2017 – "5 SPOT – Beth Wittenberg
The Edge
3/16/2016 – "Home At Last: Wrong Brain Moves into its New Headquarters in Dover"
Maine Sunday Telegram
2/28/2016 – "All Artists are created equal in RUMPUS"
2015
Foster's Daily Democrat
12/17/2015 – "A different kind of Holidaze Fair: Wrong Brain offers the Untraditional"
Maine Sunday Telegram, Portland Press Herald
7/12/2015 – "A taggers life in the country"
Foster's Daily Democrat, The Edge
6/28/2015 – "New England Artist fights heroin addiction with Posters" 6/11/2015 – "Wrestling Demons"
4/9/2015 – "Wittenberg Exhibit to Display at Franklin Gallery"
The Sound
4/8/2015 – "Dark Side: Beth Wittenberg's controversial Pop-Up show in Rochester
Foster's Daily Democrat
3/31/2015 – "Removal of Art is Censorship", Letter to the editor about the removal of my artwork
Rochester Times
1/8/2015 – "Artist Wittenberg, guided by Great Spirit, exhibits at Public Library"
2014
Rochester Times
2/27/2014 – "Wittenberg to exhibit at The Portable Pantry in March"
ONLINE PUBLICATIONS
MODspoke editor Erin (Duquette) Thomas
Lunch on The Grass editor and publisher Carrie Ann Seymour KD OUTSIDER ART editor Katie D.
Female Abstractionists editor Noa Cohan
Art Worldwide editor/publisher Alexandre
High Art Fridays editor/publisher Ron Shepard
SELF PUBLICATIONS/ZINES
INNERSCAPES – volume 1, December 2015
INNERSCAPES: The Expanded Edition – volumes 2,3,4, March 2016
INNERSCAPES – volume 5, March 2016
Pieces of War and Peace in the Land of What IS Really Real – ARTPM Challenge, March 2016 LeftOvers – October 2016
Hello My Name is Fat – October 2016 – ongoing
Footprints Inside the Citadel – collaborator Mr. Anthead, November 2016
INNERSCAPES: The Tattoo Designs – volume 6, December 2016
Jump – December 2016
FREEDOM REVOLUTION: Wrong Brain On The Fly – collaborators J. Succi, D. Soule, J. Mascioli, and F. Santos
December 2016 Crossroads – collaborator Jason Shulkin, January 2017
Gender – February 2017
2017 Water Bear Confabulum – collaborators, University of Maine Farmington, Art and Environment
professor, Dr. Sarah Maline
SLEEP WAKING – a book companion to exhibition "CONSUMED" October 2018
PUBLISHED ARTWORK
INFRArotG ermanArtmagazine
December 2014: PSYCHOSIS (pg. 1,6,7)
May 2015 issue: ADORA QUOD INCENDISTI – INCENDES QUOD ADORASTI (pg. 26,29)
Syracuse Cultural Workers: 1995 Women Artist Databook "Midwife's Prayer Blanket", 1992
AWARDS/RECOGNITION
2017 MIN COLORS ARTROOM AWARD Outstanding Artist
2016 SPOTLIGHT ON THE ARTS AWARD Outstanding Artist – Non-Traditional Media
1995 ARTIST GRANT Maryland State Arts Council, MD
1995 SHEPHERD STATE COLLEGE, WV Best in Show
1994 BEST EMERGING ARTISTS AWARD WASHINGTON, DC
David Tanous, juror
1993 EMERGING ARTIST FELLOWSHIP Washington DC Council for The Arts
1993 MARYLAND STATE ARTS COUNCIL
Artists In Education Program. Montgomery County Public Schools, MD.
1993 AWARDED SOLO SHOW
Lisa Corrin, curator, THE CONTEMPORARY
1992-3 ARTIST FELLOWSHIP Montgomery County Arts Council, MD
WORK EXPERIENCE
WRONG BRAIN
1 Washington Street Mills Dover, NH
SPECIAL PROJECTS & EXHIBITIONS COORDINATOR, PLANNING MEMBER, FUNDRAISING ASSISTANT, VISUAL ARTIST, ART TEACHER / LECTURER, ART CURATOR / COLLABORATOR
Wrong Brain is a recognized non-profit organization which provides programming and opportunities to emerging, non-traditional, under-represented artists, musicians, writers, and creatives on the Seacoast, NH. It is the brainchild of artist Sam Paolini. 
Dustan Knight
Artist Statement
Abstract Art Challenges Us –  'It messes with us'   It shows us things that we didn't know existed…it shows us things that are unexpected and un-real – and yet –  there they are –real- 
Even while I am making them – finding them – inviting them to happen – my abstract paintings create connections physically and emotionally that are surprising and better than I could have imagined them being.
My work likes to have you look at it a long time – Slow Looking- I call it.  Often inspired by a meditative walk in the woods or through a garden, or along the shore – the work invites that calm – super aware – super seeing state.  You can live with one of my paintings a long time and see new relationships in it as the light changes, as the room changes, as you change.
I enjoy 'the opening up' to the creation process.  I feel the painting is successful when I look at it and it is a truer representation of an experience than a photograph or the memory.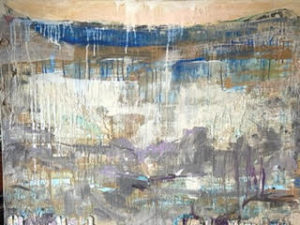 Bio
Dustan  Knight is a professional artist with a MFA from Pratt Institute in NYC and an MA in Art History from Boston University.  She retired from teaching art and art history in academia  20 years ago to work full time in her studio. During her long career she has both written about art, reviewed art, taught art, exhibited and had her artwork placed in international corporations. In 2017 Rockport Press published a book of her art titled "Painting the Impressionistic Landscape in Watercolor and Acrylic" The NH Percent for Arts has purchased numerous pieces of her art for public spaces.  She was awarded the NH State Arts Fellowship and was both a MacDowell Colony Fellow and a Cummington Artist Colony resident. She has recently done two hour long on line videos with AVA – sharing her process in her studio.  She is represented by Chase Young Gallery in Boston, Art 3 in Manchester and often shows at the Ogunquit Art and New Hampshire Art Associations.
Dustan is happily ensconced in a fabulous studio at the Button Factory Artist Studios, 855 Islington Street Portsmouth NH
and enjoys having visitors come see her work in process.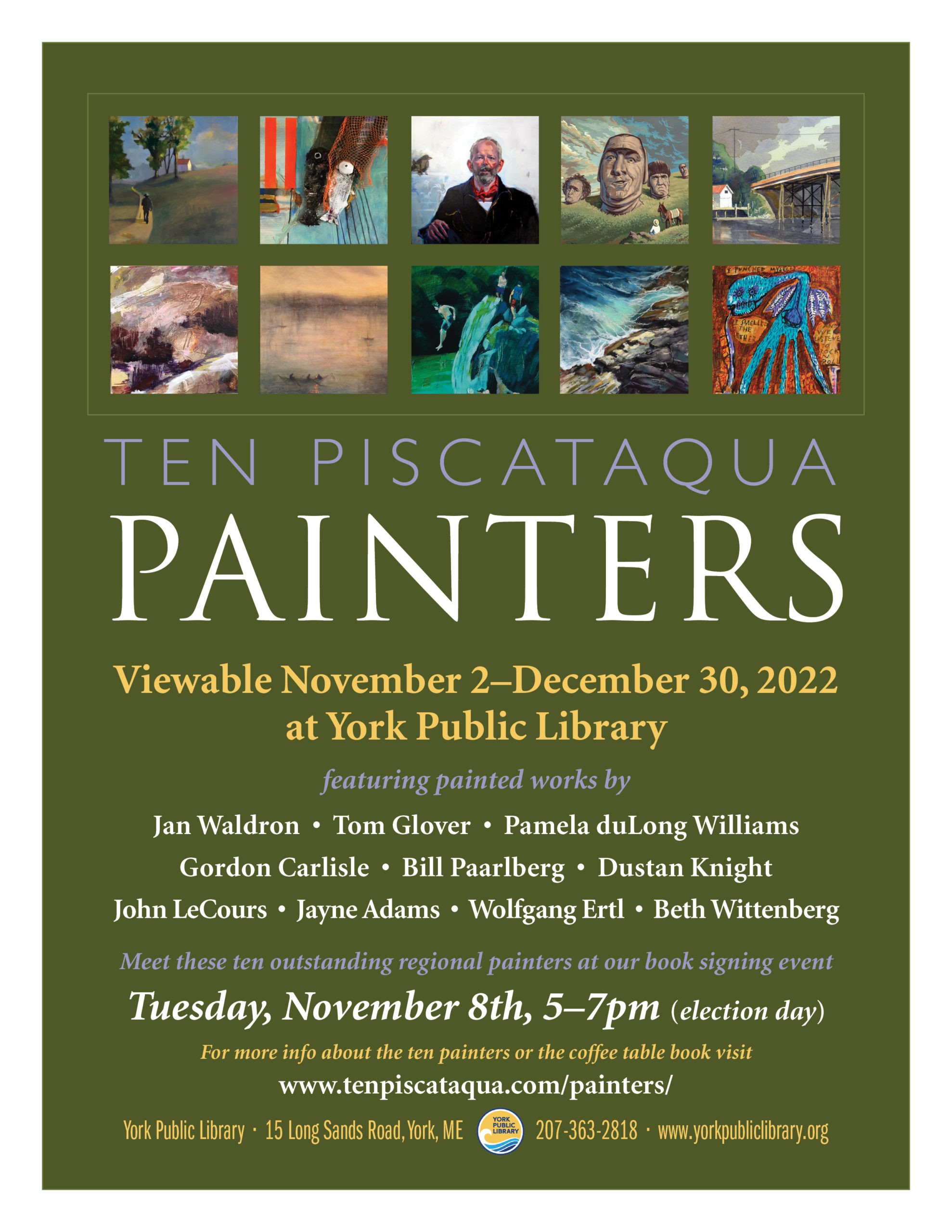 York Public Library Exhibits
The exhibits at the York Public Library include a broad range of art and represent artists from York, Eliot, the Berwicks, Ogunquit and the Portsmouth area.  The common denominator is the quality of the work.   Exhibits run the gamut and have included sculpture, fiber art, and traditional, abstract, and contemporary art.  Our goal is to reach not only those who have a strong interest in art but also patrons who may or may not visit museums and galleries on a regular basis.
One of the highlights on the calendar is the "Student Art Show" held each year in April.  The show features art created by young people in York from kindergarten through high school and is designed to foster excellence in art for generations to come.  
Every year the Library mounts a group show called "Community Collects".  This show features one, two, or a group of, well-known local artists from the past.  Collectors from the area lend pieces from their personal collections during this three-month long exhibit.
History of York Public Library Art Exhibits
When you stroll into the York Public Library (YPL) to find a book, read a magazine, work at a computer, or attend a meeting or program, you will undoubtedly discover more than you expected. In fact, you will have an opportunity to see major exhibitions by some of the area's most talented artists, past and present. The art is displayed throughout the Library.
How did this all come about? A great deal of credit goes to a group of big thinkers who envisioned the Library as a center for community activity.  They were instrumental in making sure the architectural design of the building provided adequate wall space to display rotating art shows.  To make both the Library and the art exhibits accessible, it was important that the building be located in the heart of the Village, and thanks to residents Tom and Nancy Viele, the land was made available.
The York Public Library (YPL) Art Committee
The YPL Art Committee, composed of a small group of volunteers, selects and organizes six exhibits throughout the year. Committee members are knowledgeable in the field and familiar with the reputations of artists in our area.  An Opening Reception is hosted by the Committee for each exhibit during which the artists are invited to give an informal talk about their creative process. Exhibits are by invitation. For more information contact info@yorkpubliclibrary.org