York Public Library Art Exhibit
Provided through community support.
About the Current Exhibit

January 4 – March 31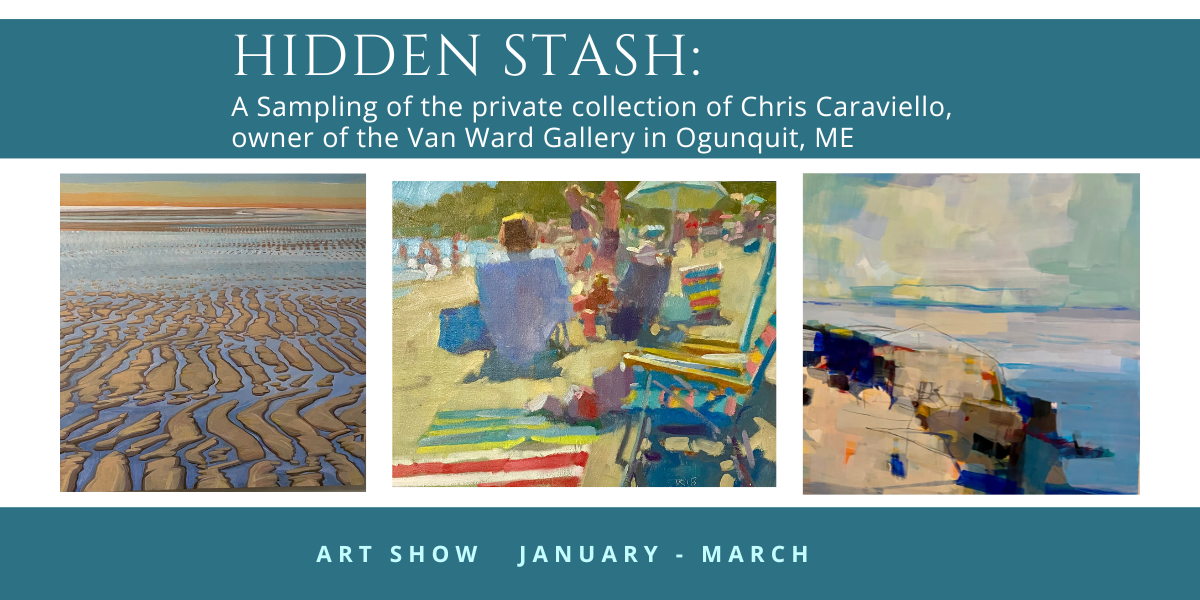 Hidden Stash
The York Public Library announces the next exhibition for their art program will be "Hidden Stash." The exhibit will show a sampling of the private collection of Chris Caraviello, owner of the Van Ward Gallery in Ogunquit, ME. The show includes contemporary pieces by local artists, and period pieces dating back to the early 1900's.
Chris Caraviello has been collecting since his teenage years. He has a degree in art history from Tufts University. Chris has owned and operated the Van Ward Gallery for the past 30 years.
The exhibit runs from January 4 th thru March 31 st , 2023 with the opening reception on Tuesday, January 10 th 5-7p.m. All are welcome to attend. Chris will talk about his acquisitions and how this collection emerged.
York Public Library Exhibits
The exhibits at the York Public Library include a broad range of art and represent artists from York, Eliot, the Berwicks, Ogunquit and the Portsmouth area.  The common denominator is the quality of the work.   Exhibits run the gamut and have included sculpture, fiber art, and traditional, abstract, and contemporary art.  Our goal is to reach not only those who have a strong interest in art but also patrons who may or may not visit museums and galleries on a regular basis.
One of the highlights on the calendar is the "Student Art Show" held each year in April.  The show features art created by young people in York from kindergarten through high school and is designed to foster excellence in art for generations to come.  
Every year the Library mounts a group show called "Community Collects".  This show features one, two, or a group of, well-known local artists from the past.  Collectors from the area lend pieces from their personal collections during this three-month long exhibit.
History of York Public Library Art Exhibits
When you stroll into the York Public Library (YPL) to find a book, read a magazine, work at a computer, or attend a meeting or program, you will undoubtedly discover more than you expected. In fact, you will have an opportunity to see major exhibitions by some of the area's most talented artists, past and present. The art is displayed throughout the Library.
How did this all come about? A great deal of credit goes to a group of big thinkers who envisioned the Library as a center for community activity.  They were instrumental in making sure the architectural design of the building provided adequate wall space to display rotating art shows.  To make both the Library and the art exhibits accessible, it was important that the building be located in the heart of the Village, and thanks to residents Tom and Nancy Viele, the land was made available.
The York Public Library (YPL) Art Committee
The YPL Art Committee, composed of a small group of volunteers, selects and organizes six exhibits throughout the year. Committee members are knowledgeable in the field and familiar with the reputations of artists in our area.  An Opening Reception is hosted by the Committee for each exhibit during which the artists are invited to give an informal talk about their creative process. Exhibits are by invitation. For more information contact info@yorkpubliclibrary.org