York Public Library Art Exhibit
Provided through community support.
About the Current Exhibit

July – August 2022

Your Title Goes Here
Your content goes here. Edit or remove this text inline or in the module Content settings. You can also style every aspect of this content in the module Design settings and even apply custom CSS to this text in the module Advanced settings.
Artist Statement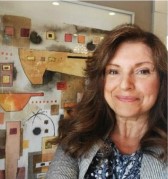 Anita Loomis has been an artist as long as she can remember.
As young as age seven, her grandfather, a sign painter and
lover of impressionist art, would have her sit and draw as an
activity to keep her occupied when visiting. "Idle hands were
not appreciated when I was growing up. There were little carved olive wood deer or other objects set out for me to draw. If I did a good job, I was paid a nickel; if my drawing was very good, it was tacked up on the wall. If it was not good… we had a chat about observation."
Selected art currently on display offers a sampling of Anita's work from the past ten years of her life. She worked in the field of architectural glass after earning her BA in Studio Art in 1989 and did not turn her attention to painting until the early 2000s while pursuing her MA in Arts Management and a graduate certificate in Public Administration. "I aspired to work for a museum someday, but my path led me to art teaching and to a private art practice. I earned my teacher certification and taught middle school art briefly before Covid began. Like many reflecting on life during the pandemic, my husband and I chose to make a change. We moved closer to our daughter here in Maine, settling in Kittery in 2020. Now, I am happily engaged in running Loomis Gallery, which offers artwork by New England artists, and I'm focused on finding ways to support local artists as I continue to develop and pursue my own art practice. This summer I am proud to be partnering with the Ogunquit Playhouse to offer art by
New England artists in the theater lobby. I am especially grateful to the York Public Library art committee for this opportunity to present such a large collection of my works this summer."
What makes Anita's work original? She has been a life-long student of art history, and has enjoyed formal art classes, but she confesses to being guarded about her art influences. "It's easy to emulate the work of others who inspire you, which is fine for exploration, but artists need to develop their own way of seeing, working intuitively and looking at their own work critically. You need to filter advice from others about your artwork; everyone needs to find their own way." She respectfully explores art of other cultures in the ongoing evolution of her own language of mark making. Evident in her work is the influence of her experience working on leaded glass windows, abstract expressionist painters, naturalists, Asian art, and unconventional sources of inspiration from animation and graphic novels. Her painting styles are as varied as her interests, and themes range from landscape to illustrative works rooted in communication and relationships. Anita has exhibited in numerous juried competitions both nationally and internationally, showing in Massachusetts, Connecticut, Pennsylvania, China, and Japan. She enjoys commission work and loves being part of the seacoast community. Learn more about her work at www.anitaloomis.com.
Chatterbox Series
Curriculum Vitae
York Public Library Exhibits
The exhibits at the York Public Library include a broad range of art and represent artists from York, Eliot, the Berwicks, Ogunquit and the Portsmouth area.  The common denominator is the quality of the work.   Exhibits run the gamut and have included sculpture, fiber art, and traditional, abstract, and contemporary art.  Our goal is to reach not only those who have a strong interest in art but also patrons who may or may not visit museums and galleries on a regular basis.
One of the highlights on the calendar is the "Student Art Show" held each year in April.  The show features art created by young people in York from kindergarten through high school and is designed to foster excellence in art for generations to come.  
Every year the Library mounts a group show called "Community Collects".  This show features one, two, or a group of, well-known local artists from the past.  Collectors from the area lend pieces from their personal collections during this three-month long exhibit.
History of York Public Library Art Exhibits
When you stroll into the York Public Library (YPL) to find a book, read a magazine, work at a computer, or attend a meeting or program, you will undoubtedly discover more than you expected. In fact, you will have an opportunity to see major exhibitions by some of the area's most talented artists, past and present. The art is displayed throughout the Library.
How did this all come about? A great deal of credit goes to a group of big thinkers who envisioned the Library as a center for community activity.  They were instrumental in making sure the architectural design of the building provided adequate wall space to display rotating art shows.  To make both the Library and the art exhibits accessible, it was important that the building be located in the heart of the Village, and thanks to residents Tom and Nancy Viele, the land was made available.
The York Public Library (YPL) Art Committee
The YPL Art Committee, composed of a small group of volunteers, selects and organizes six exhibits throughout the year. Committee members are knowledgeable in the field and familiar with the reputations of artists in our area.  An Opening Reception is hosted by the Committee for each exhibit during which the artists are invited to give an informal talk about their creative process. Exhibits are by invitation. For more information contact info@yorkpubliclibrary.org