York Public Library Art Exhibit
Provided through community support.
About the Current Exhibit

May 1 – June 30

Studio Works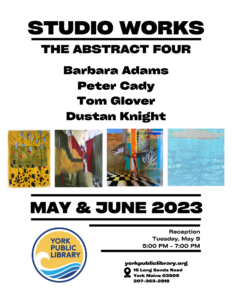 The painters exhibiting at The York Public Library from May 2nd- through June 30, 2023 refer to themselves as the Abstract Four.  Barbara Adams, Peter Cady, Tom Glover and Dustan Knight enjoy sharing the challenges of creating abstract paintings. This exhibition called Studio Works is a glimpse inside the artists' creative world.  Each of the Four Abstract painters chooses a range of artwork from their studios, both older and newer pieces, that celebrates their range and delights in their abilities to move between realism, abstraction and purely non representational artwork. Opening Reception – Tuesday May 9, 2023,  5:00 – 7:00p.m.
It is unusual to find four like minded artists who buck the traditional nomenclature assigned by instructors and gallery owners to move comfortably across the artistic language. It is an opportunity for viewers to watch the transition of representational  subjects such as a place or an object into artistic abstract interpretations and into images that no longer resemble the scene or object at all.
"There is definitely an educational aspect to our shows," says artist Adams. "Abstraction can be intimidating and here you find four artists sharing their creative processes."
"Fish Dream Catcher" by the well known artist and teacher, Tom Glover, has both realistic and non-representational elements.   "Into the City" by Barbara Adams suggests its architectural inspirations by a few dramatic vertical edges and light peaking around the corners of shadowy shapes.  Dustan Knight,another familiar seacoast artist, adds a nod to the landscape in "Sea" with just a simple horizon lost in the swirl of luscious brushstrokes and broken color.  Peter Cady, wood worker and painter, references familiar places with his "Autumn Woods" and minimal deliberation that edges the work toward poetry. 
Barbara Adams
ARTIST STATEMENT
I paint for the love of painting. During the 35 years of my art involvement I have seen many shifts and transformations in my themes, styles, mediums and composition. I treasured the watercolors of my early work, I was passionate about pastel painting, but in recent years oil painting – especially on abstracted themes has become a passion for me. I find the intensity and the richness of using a palette knife and color-mixing in oils to be compelling and joyful.
Inherent in all my work is an effort to portray the essence, the emotion, or sense of place that captures my imagination. With my abstract paintings, I find excitement in integrating my love of antique structures or landscapes with vibrant color and abstracted shapes.
I acknowledge that traveling to foreign countries, experimentation with new techniques, or even just a certain light in a color or upon a scene can inspire my paintings. However, my real motivation to paint is the joy in the process rather than the product.
BARBARA STEVENS ADAMS
Portsmouth, NH 03801
bsadamsart@gmail.com
BarbaraStevensAdamsFineArt.com
Peter Cady
Peter Cady grew up on the coast of New Hampshire. His study of painting began as a boy observing painters with
their easels overlooking the ocean. He studied civil engineering but found he was drawn to things artistic and
to working with his hands. After college he worked in construction and learned fine woodworking. He still lives in
the timber framed house he built from his trees. His furniture making started to incorporate color and a variety
of materials, evolving into sculpture. After a second career of teaching science to middle school students, he returned
to the arts. He has gotten to know and learn from many fine artists including Gary Haven Smith, Gail Sauter, Nella Lush, Tom Glover, Dustan Knight, Brian Chu, and Bess Cutler.
Solo shows
2022 Ceres Bakery, Portsmouth, NH
2020-22 Wicked Color, Rye Public Library, Rye, NH
2019 Ceres Bakery, Portsmouth, NH
Group shows
2023 Apr/Jun—Viewpoints, 100 Market Gallery, Portsmouth, NH
May/Jun—Studio Works w/ Abstract4, York Public Library, York, ME
Sep/Oct—Jazzscapes II w/ Abstract4, PMAC, Portsmouth, NH
Nov/Dec—Lost Neighborhoods w/ Abstract4, Discover Portsmouth Center
2022 Jazzscapes, The Art Center, Dover, NH; On the Edge, University of New
Hampshire Museum of Art, Durham, NH
2021 Abstracting the Seacoast, Discover Portsmouth Center, Portsmouth, NH
2019 September juried show, 100 Market Street, Portsmouth, NH
2018 Amesbury Mills, Amesbury, MA; Hilton-Winn Farm, Cape Neddick, ME
2017 Old Schwamb Mill, Arlington, MA; Main Street Art, Newfields, NH
2016 Village Arts Gallery, Kittery, ME
2016-19, 2021-23 ArtPM, BUOY Gallery, Kittery, ME
2015 Nancy Barrett Gallery, Portsmouth, NH
1993 Alter Ego, The League Gallery, Concord, NH
1992 Society of Arts & Crafts, Boston; Guild of NH Woodworkers, Sharon, NH;
Expanding Horizons, The League Gallery
1991 League of NHC, Nashua Center for the Arts
1990 Best in Wood, Sunapee Fair, Sunapee, NH; Juried Exhibit, Currier Museum,
Manchester
1988 Showcase Artist, NH Public Television Auction, Durham, NH
1983-1992 Living with Crafts, League of NH Craftsmen, Sunapee Fair, Sunapee, NH
Peter Cady Rye, NH petercadycreates.com petercady@comcast.net
Tom Glover
Tom Glover was born in Keene, NH. He graduated with a B.F.A degree in painting at the University of NH, Durham and worked closely with the Maine painter John Laurent up until Laurent's death in 2005. He studied painting restoration with the conservator Anthony Moore in York, Maine. For several years he lectured at the University of Connecticut to science education graduate students on, "The Landscape, Mythology and the Artist". He has also taught painting at the University of NH, D.C.E, and workshops on the Isles of Shoals, NH/ME. Presently he teaches painting at Sanctuary Arts in Eliot, Maine.
In 1996 he was artist in residence on White Island, Isles of Shoals. In 2000 he was awarded a fellowship to work on Great Spruce Head Island where he used Fairfield Porter's easel and on a second stay used Eliot Porter's old darkroom as a living and painting quarters.
He began seeking out the masters during several trips over the past two decades to Italy, England, Ireland, France and Denmark. He was artist in residence at Rancho Romero, Osa Peninsula, Costa Rica, and a visiting artist at Monticello, New Mexico exploring canyons, Apache forts and possible Anasazi ruins. In 2016 he was artist in residence at the Shoals Marine Lab on Appledore Island, Isle of Shoals.
Dustan Knight
Artist Bio
Dustan Knight is a working artist who grew up on an Island off the NH coast and has a studio in the Button Factory in Portsmouth NH.  Most of her artwork is inspired by the local landscape of rough granite seashores, pine and birch forests and her island garden.   Dustan has had a lengthy successful career as an art professor, art writer and exhibitor.  Many of her paintings are in national corporate collections. Please visit her website; DustanKnight.com for greater biographical detail.
 Artist Statement-Dustan Knight
 I am so pleased to exhibit a collection of my paintings with the Abstract 4 group.  We encourage and support one another's artistic journeys. The work I have submitted to the York Public Library is an edited version of some of the more exciting series that I have worked on over the past several years.  There are watercolors (mounted on archival panels) that I feel really suggest the sensation of moving water.   Watercolor has the unique characteristic of transitioning and blending beyond the artist's intention – I really love that excitement and bright color.  I include two acrylics on panels that are expressions of experiences I have had hiking beside the sea and along the trails bordering Great Bay.   The large acrylics are an on-going series of expressive and abstracted landscapes.  I did two from sketches after I returned from a residency at the Ilse of Shoals and one, perhaps my favorite of the group  – Spring Peepers – is perfect for May –  I tried to capture the feeling of the warming earth, the moisture and that wonderful surround sound of the spring peepers in the evening. 
York Public Library Exhibits
The exhibits at the York Public Library include a broad range of art and represent artists from York, Eliot, the Berwicks, Ogunquit and the Portsmouth area.  The common denominator is the quality of the work.   Exhibits run the gamut and have included sculpture, fiber art, and traditional, abstract, and contemporary art.  Our goal is to reach not only those who have a strong interest in art but also patrons who may or may not visit museums and galleries on a regular basis.
One of the highlights on the calendar is the "Student Art Show" held each year in April.  The show features art created by young people in York from kindergarten through high school and is designed to foster excellence in art for generations to come.  
Every year the Library mounts a group show called "Community Collects".  This show features one, two, or a group of, well-known local artists from the past.  Collectors from the area lend pieces from their personal collections during this three-month long exhibit.
History of York Public Library Art Exhibits
When you stroll into the York Public Library (YPL) to find a book, read a magazine, work at a computer, or attend a meeting or program, you will undoubtedly discover more than you expected. In fact, you will have an opportunity to see major exhibitions by some of the area's most talented artists, past and present. The art is displayed throughout the Library.
How did this all come about? A great deal of credit goes to a group of big thinkers who envisioned the Library as a center for community activity.  They were instrumental in making sure the architectural design of the building provided adequate wall space to display rotating art shows.  To make both the Library and the art exhibits accessible, it was important that the building be located in the heart of the Village, and thanks to residents Tom and Nancy Viele, the land was made available.
The York Public Library (YPL) Art Committee
The YPL Art Committee, composed of a small group of volunteers, selects and organizes six exhibits throughout the year. Committee members are knowledgeable in the field and familiar with the reputations of artists in our area.  An Opening Reception is hosted by the Committee for each exhibit during which the artists are invited to give an informal talk about their creative process. Exhibits are by invitation. For more information contact info@yorkpubliclibrary.org