Stephanie:
Silver Packages by Cynthia Rylant
This is one of my favorite stories about hopes, dreams, and growing up. Written by Cynthia Rylant this Appalachian Christmas story is about a boy and Christmas gift train. Each Christmas, Frankie waits patiently to see if he will get the gift he dreams of.  A sweet tale of about what we think we want with a heart warming ending.
Kathleen:
A Christmas Carol by Charles Dickens
Every year I read (and listen to) this tale of a redeemed miser. Dickens' words are an annual reminder of what is the most important part of the holiday season. 
Katie: 
White Bird by R. J. Palacio
A continued exploration of the characters introduced in Palacio's "Wonder". In this graphic novel we get to meet Julian's grandmother "Grandmere", and hear of her harrowing and heartbreaking experience as a young Jewish girl hiding in the barn of a school friend in Nazi-occupied France during WWII. The illustrations are painful, powerful and honest. I had a knot in my throat the whole way through. Ultimately the story is hopeful and demonstrates the importance of kindness and standing up against injustice.
Jeanine:
Here For It by R. Eric Thomas  
A poignant, often very funny, memoir of a gay black man as he slowly becomes aware of both his gayness and his blackness. Touching, eye-opening and occasionally laugh out loud funny.
Barb:
Bear is Awake by Hannah Harrison
Winter begins…bear is awake! A unique picture book combines a beautiful story while showcasing the alphabet.
Sophie:
Kim Jiyoung, born 1982 by Cho Nam-Joo
For women today–the pressures to have it all, be all to everyone, and yet keep oneself within the narrow definition of being female in the world are all too common. The microagressions so prevalent in society manifest in a psychotic break for the protagonist, but reading her story is a mirror not a window. Take a trip to South Korea and experience it for yourself.
Bridget:
The Seine: the river that made Paris by Elaine Sciolino.
Elaine was a Newsweek correspondent and has lived in Paris since the 1970's.  She is thorough in her historical facts and personal which makes it fun.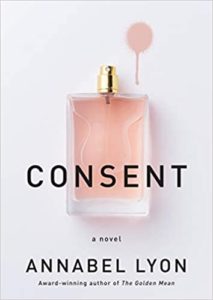 Michelle:
Consent by Annabel Lyon (Release date January 26, 2021)
It was a slow burn of a start but then…THEN it caught fire."[A]n exuberant and weirdly wonderful novel that absolutely commits to its feverish tale of damaged brains, storied couture dresses, alcoholism, mortality, rare French perfumes, tempestuous sisterhood and cold-blooded retaliation. . . . Brimming with smart, sharp writing and wholly unpredictable turns from one chapter to the next, now and then in fact its cockeyed vision brings to mind Hitchcock and Lynch at their quirky, misanthropic finest. . . . ."
— The Vancouver Sun