Gingerbread Workshop
Learn how to make stunning gingerbread creations with Michele!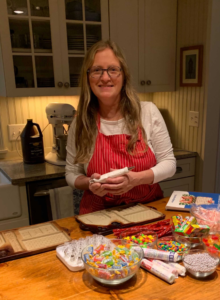 It's time for our annual Gingerbread Festival at York Public Library, and this year we are going all virutal! Submit YOUR gingerbread creations to our virtual gallery by emailing your images to info@yorkpubliclibrary.org
Our very own Michele Bertolini is a master gingerbread maker. Her mom gave her a gingerbread mold 25 years ago for a wedding gift, and it's provided so much fun and entertainment for her friends, family, and people throughout our community. Join Michele virtually in her kitchen and learn how to make a gingerbread house!
The Gingerbread Virtual Gallery
To submit your gingerbread creation for our 2020 virtual display send a picture of your gingerbread to info@yorkpubliclibrary.org.
In the Kitchen with Michele!