Beginning in January and running through March 2022, York Public Library will host a retrospective of watercolors and paintings by Patience Haley (1926-2020). Well known in her later life for her large vibrant watercolors of flowers, Patience was also a teacher, a conservationist, and an art restorer at several museums. Several paintings by her husband, Panos Ghikas (1917-2012) and prints by her sister Priscilla Haley will also be on display.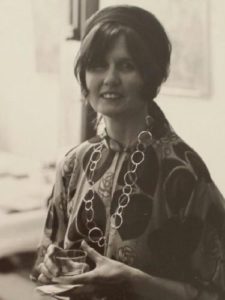 Patience E. Haley was born in 1926 in Boston, Mass. and passed away in York, Maine in August 2020 at 94 years of age. She attended the opening in 1953 of the Ogunquit Museum of American Art and had a watercolor show there in 2016. Ms. Haley was an active member of the Ogunquit artist colonies during the fifties and forward.
Master Gilder and Egg Tempera expert, Panos Ghikas (1917-2012) executed a mural in gold leaf for the World Trade Center's 110th floor restaurant, Windows on the World. He and his wife, Patience, restored historic murals by Barry Faulkner at the Averill Harriman estate in Harriman, NY. He lived and worked in Boston for 50 years before moving to Maine in 1991.
Priscilla Haley, also an artist, was primarily known for her printmaking and was a member of the York Art Association. Her work reflects Maine, its rugged coast, islands, and ever-changing sea.
York Public Library Community Collects Exhibit:
Celebrating the Art of Patience Haley
with Panos Ghikas and Priscilla Haley
January through March 2022 in York Public Library's Upper Level