Beanstack Challenge:
1000 Books Before Kindergarten
The goal is easy. The rewards are priceless. Read 1000 books before your child enters Kindergarten. You may repeat books as many times as you wish. Track your progress online using Beanstack.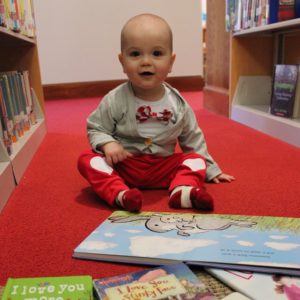 If you read just 1 book a night, you will have read about 365 books in a year. That is 730 books in two years and 1,095 books in three years. If you consider that most children start kindergarten at around 5 years of age, you have plenty of time!
If you don't already have an account you can create a free account to get started with Beanstack! No library card required. If you need help review the instructions on our Beanstack Help Page, or call the library and we will walk you through the account creation process.
The 1000 Books Before Kindergarten challenge is only accessible to readers birth – PreK. You must create an account for your child to gain access to this challenge. After you sign in to Beanstack, find the "1000 Books Before Kindergarten" challenge on your child's Beanstack dashbboard. Click register. It's that easy!
Beanstack will automatically track the number of books you read for you! You can enter each book as you read them together, or log batches of books at one time.
You will earn virtual badges as you reach milestones in the challenge.
Need Help? Ask a librarian! We are here to help you get the most out of your free Beanstack account! 207-363-2818 or Contact us via email.
Our Beanstack service is available with support from the Maine State Library, the Institute of Museum and Library Services, and the York Rotary.